Are physical keyboards soon going to be a thing of the past? At a splashy event here in New York City, Acer Tuesday announced its new concept for a laptop: The Acer Iconia. The name's gravitas is appropriate given that it's the first laptop to ditch a physical keyboard in favor of a two touch-screens attached by a hinge, just as with a standard laptop.
The Iconia runs Windows 7 Home Premium, and features two 14-inch, high-definition displays packaged in a clamshell design. The upright display acts as the primary display, while the display that remains parallel with the surface generally serves as a navigation panel, alternatively displaying a roomy on-screen keyboard, a touch-wheel and other on-screen touch controls, or even an extension of what's displayed on the primary display. The latter option effectively provides a dual-monitor mobile device for presentations or studying complex spreadsheets across both monitors, or viewing one document in one monitor, and another on the second monitor.The two monitors make the Iconia a hefty device — at 6.1 pounds it's unlikely to be the device you throw in your bag for your commute.
(Click on any image to zoom)
Think of it as a Star Trek: The Next Generation control panel come to life. Acer designed the interface overlay, dubbed Acer Ring, makes it easy to access document and Web pages, resize pictures, and navigate your content library; an SDK for it won't be available until December, so for now you'll be limited to whatever customized software Acer has designed.
From the demo presentation in New York, it appears as if Acer has put a lot of effort into providing touch-optimized experiences, though. For example, put five fingers on the display that's flush with the surface, and up comes the Acer Ring interface for accessing your photos and music, and for browsing the Web.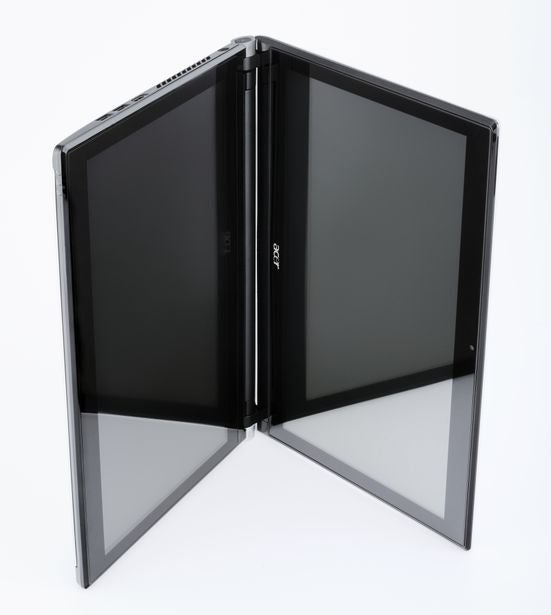 In particular, Acer is emphasizing consuming and accessing your multimedia content easily, especially given its introduction of its own content store, Alive, due in the U.S. in Q2 2011, and Clear-fi, a device networking intiative to make it simple to access your content across devices and popular Web services like Facebook and Flickr.
Acer says the Iconia may be available in the United States by Christmas, or January at the latest. The device will go on sale in Europe sooner, where it'll be priced at 1500 euros or 1500 pounds. The U.S. price is still to be determined. The Iconia will run a Core i5 480 CPU with 4GB of RAM and a 640GB hard drive. It will have two USB 2 ports, one USB 3, HDMI-out, a 1.3-megapixel Webcam and built-in Bluetooth.
While Iconia's unique design captured the bulk of attention, Acer also introduced 7-inch and 10-inch Android tablets, a 10-inch Windows 7 tablet, and a 5-inch Android smartphone the company referred to as a "mini-tablet." Availability for those will be further into 2011. The Windows tablet will likely be by February, according to Acer CEO and president Gianfranco Lanci. "For the others, it's less under our control. It depends on when the Android tablet operating system is available," says Lanci. "We don't want to release a tablet with a phone OS."