At a Glance
Expert's Rating
Pros
Good malware blocking
Significant impact on PC performance
Our Verdict
Avira put up decent scores in detection and blocking of malware, but its interface needs a makeover, and it could slow your PC.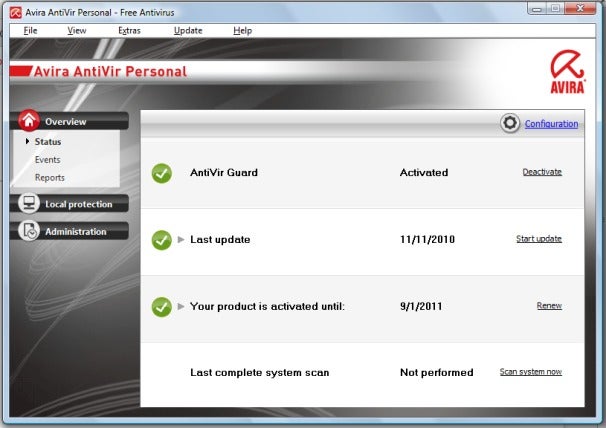 Avira AntiVir Personal ranked second in our late 2010 roundup of free antivirus products. AntiVir has strength where it counts most: It did a great job at detecting and blocking malware. That said, its interface needs some improvement.
From the outside, AntiVir Personal is nearly identical to its paid counterpart, AntiVir Premium 2010: The two products have nearly identical interfaces and installation processes, so the real difference between them is the feature set. The interface is reasonably straightforward, but some areas do need improvement.
The Status tab gives a basic overview of whether you're protected and up-to-date, though it doesn't really give too much detail. Most buttons are not labeled, and the button icons are not always immediately recognizable, so you'll have to mouse over them for a tooltip describing what they do (some of the tooltips are more useful than others). Avira is a German import, and some of the wording in dialog boxes feels awkwardly translated. The overall feeling I got from AntiVir Personal's interface is that, while it's serviceable, it feels geared toward more advanced PC users.
Avira put up very good scores for malware detection. AntiVir Personal detected 99 percent of malware samples in scanner-based detection tests that predominantly rely on malware signature files, which was one of the better showings in this test among the free antivirus products we tested. And in the blocking of actual, real-world malware attacks, AntiVir personal completely blocked 80 percent of attacks, which puts it slightly above the average of the products we tested. It partially blocked an additional 5 percent of attacks.
Avira also but up decent scores for malware cleanup. It detected all infections on the test system, and was successful in removing all active components of an attack 70 percent of the time (right around average), and removed all malware components 30 percent of the time (also about average).
On the negative side, AntiVir Personal, along with Comodo's free Internet Security Premium, had the most false positives–six–of the free antivirus products we looked at. As a percentage, this number is still low–it was .004 percent of files scanned, and they were all non-operating-system files, but any false positive can be a hassle. That said, only one free product we tested–Avast Free Antivirus–achieved a perfect false positive score.
AntiVir Personal's scan speeds were impressive as well–it completed an on-demand scan of 4.5GB of data in 87 seconds, the best finish of the free antivirus products we looked at. Its on-access scans were also quite fast: It finished the test in 4 minutes, 7 seconds, well below the average time of 2 minutes, 50 seconds. The on-access scan is a good indicator of how quickly an antivirus program will be able to scan files for malware as they're opened or saved to disk. In addition, AntiVir Personal's impact on overall system performance was low, and it added a mere 2.5 seconds to system startup in our tests–the average product added over 4 seconds to startup time.
AntiVir Personal, like Avira's other products, has been a strong contender in the past, and this latest version continues that trend. But we'd like to see Avira make some improvements to its user interface.