Reader John is having a problem with his Vista-powered HP desktop: random reboots. Some days, he says, it reboots five minutes after he powers it up in the morning. Sometimes it happens later in the day, and sometimes not at all. To help narrow down the problem, check out Scott Dunn's "Make Random Reboots Tell You What's Up."
John was smart enough to send me a detailed listing of his hardware loadout, and I quickly spotted a possible culprit: mismatched RAM. His system has a pair of 512MB RAM modules and another pair of 1GB modules.
In theory, this should work fine–but in reality, it can cause problems. I suspect that the system had the two 512MB modules when John first bought it, and that he added the extra RAM to improve performance. Smart move, but if the newly introduced modules aren't exactly the same as the originals–same speed, same transfer rate, etc.–they could definitely cause random reboots.
My advice, John, would be to pull the two 512MB modules and see how the system fares. (Vista can get by just fine on 2GB.) If it still reboots without warning, try going back to just the 512MB modules. (It may not be a RAM mismatch that's causing the problem, but rather a bad RAM module.)
Keep in mind, this is just one possibility. Random reboots can also be caused by bad motherboards, glitchy video-card drivers, and other hard-to-troubleshoot items.
Set the Default Mail Client to AOL, Hotmail, Gmail, or Yahoo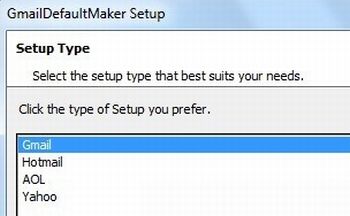 If you use a Web-based e-mail client like Gmail or Yahoo, you've probably encountered this hassle before: you click a mailto link on a Web page, then watch while Windows tries to open Outlook, Windows Live Mail, or some other desktop program you don't use and haven't configured. Error messages (and possibly cursing) ensue.
There are various hoops you can jump through to configure Windows and/or your browser to direct these e-mail links to the proper destination (e.g. Gmail), but why bother? GmailDefaultMaker is a small, simple utility that does the hoop-jumping for you.
Just run the free program, then choose the default mail service you want: AOL, Hotmail, Gmail, or Yahoo. (I know: the program needs a name change.) Then go about your business. It really is that easy.
Now, whenever you click a mailto link, you'll land in the proper Web client, not an unwanted desktop program.
Resize Desktop Icons with Your Scroll Wheel
Savvy users know that the mouse wheel can do more than just scroll up and down in a document or Web page. For example, in your Web browser, if you hold down the Ctrl key and nudge the wheel, you can quickly change the font size.
What I didn't know (it's true: I don't know everything–some would say anything) is that this same tip works with desktop icons.
Specifically, if you're a Windows 7 user, you can increase or decrease the size of your desktop icons just by holding down the Ctrl key and scrolling up or down with the wheel. (Scrolling up makes them larger; down makes them smaller. Natch.)
That's about a zillion times easier than wading into the Control Panel in search of an icon-size setting.
Alas, I can't take credit for this tip; a reader submitted it to Lifehacker. But I can remind you of my all-time favorite mouse-wheel tweak: WizMouse, the free utility that makes the wheel work wherever you point your cursor–no clicking required. It's a must-have.
If you've got a hassle that needs solving, send it my way. I can't promise a response, but I'll definitely read every e-mail I get–and do my best to address at least some of them in the PCWorld Hassle-Free PC blog . My 411: hasslefree@pcworld.com . You can also sign up to have the Hassle-Free PC newsletter e-mailed to you each week .