Diehard fanboys are often guilty of unruly, mean-spirited behavior, but most of these scuffles are relegated to online bulletin boards and comment threads. Not so in the case of Google devotees, who have inexplicably gone brutal — and ridiculous — in their defense of Google Street View.
Google enthusiasts splattered houses with eggs in the Bergerhausen district of Essen, West Germany, in an apparent protest against those homeowners' decision to have their abodes blurred out from Street View. These egg-tossing vandals also taped notes to the mailboxes of conscientious objectors stating, "Google's cool," according to Deutsche Welle.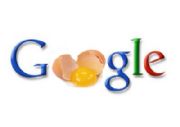 Obviously, Google stepped back and said "uh-uh, that's got nothin' to do with us." Lena Wagner, a Google spokeswoman, said the company "distances itself completely" from such no-no behavior.
"We've clearly given people the possibility to blur out their house, and naturally we respect their wishes. Those people who want to make use of the function should do so," Wagner told Deutsche Welle.
Germany and Google haven't been getting along lately. After the Street View scandal wherein Google was snatching sensitive personal information over unencrypted Wi-Fi networks, roughly 250,000 Germans requested their homes be blurred out on Street View. Google is cool with that; why aren't these vandals?
Basically what we have here is a case of citizens demonstrating autonomy against … citizens demonstrating autonomy. Irony is as delicious as a plate of sidewalk-fried eggs.