First, the obvious: Cyber Monday is little more than a huckster's ploy to spur holiday shoppers to avoid the inevitable. Purportedly the online equivalent of Black Friday–albeit without the frostbite, fisticuffs, and 911 calls of its brick-and-mortar sibling–Cyber Monday has little meaning, considering most Black Friday (and pre-Black Friday) deals are available online as well.
In other words, Monday's retail extravaganza marked the start of an online shopping season that had been chugging along for a month or so. "Cyber Monday" is catchy though…well, in a 1995, what's-my-AOL-password sort of way.
Marketing gimmicks aside, the start of the 2010 holiday shopping rush highlights an important trend: Consumers love to buy stuff online. According to a new consumer survey by market researcher NPD Group, Black Friday sales volumes and customer traffic at brick-and-mortar retailers grew a mere 6 percent this year, while the online shoppers' share of sales and traffic rose an impressive 44 percent.
"While brick-and-mortar stores likely had a tough time on Black Friday, as we estimate electronics sales up only minimally overall, online sales truly came into their own this year. For those of us in the consumer technology business that is no surprise, sales have been growing rapidly online for a few years," writes NPD Group analyst Stephen Baker in a blog post.
Indeed, Internet retailing has gone mainstream. "Online shopping lost its elitism and became mass market as more retailers embraced multi-channel and more online-only retailers recognized the value of retail promotion," Baker adds.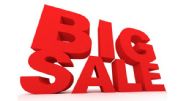 You can blame the Internet for the growing trend of retailers opening on Turkey Day too. "Online retail leveraged its 24/7 sales opportunity by turning Thanksgiving into a shopping day and forcing brick-and-mortar stores to respond by opening their doors," Baker writes.
Who knows, physical stores may eventually go the route of Vegas casinos and never close at all.
Contact Jeff Bertolucci via Twitter (@jbertolucci ) or at jbertolucci.blogspot.com .