Over the past few days you've learned what Windows Explorer is, where to find it, and how to tweak its layout. Today, let's look at an option that makes Windows Explorer a little easier to navigate.
One of my little gripes with the Windows 7 version of Explorer is that it constantly forces me to manually expand folders and subfolders, instead of just showing me everything up front. I'm sure Microsoft did that to make everything seem less cluttered, but for me it just means extra work.
Fortunately, there's a quick and easy way to improve the way Explorer (again, the Windows 7 version) handles folders. Here's how:
First, run Explorer (my preferred method: press Windows-E). Next, click the Organize button near the top-left corner of the Window, and then click Folder and Search Options. You'll see this: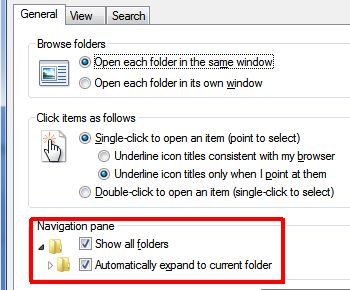 Check the Show all folders and Automatically expand to current folder boxes, then click OK.
Now, Explorer will display all your folders at once, not just the one you've manually expanded. Likewise, if you open a folder directly (from, say, your Desktop), the Explorer folder tree will expand accordingly.
More to come!