Screenshots are among the most widely used images on the Web today. They are great for writing your own how-to articles at work, or for reporting program errors to technical support teams. These helpful tips will show you three ways to capture great screenshots and get them ready for printing.
The Print Screen Button
The most well-known way to capture screenshots is with the Print Screen key, usually located on the upper right portion of your keyboard.
1. Press Print Screen to take a snapshot of your entire screen, or press Alt, Print Screen to take a screenshot of just the active window where you are working.
2. You can then paste the image into e-mail messages, Office documents, or image editors.
Print With Paint
Many people like to print their screenshots from Paint, the basic image editing program that comes with all versions of Windows, because it lets you crop and resize your images.
1. Snap your screenshot with the Print Screen button as described in the section above.
2. Click on the Windows Start button in the lower left corner of the screen. Open Paint by navigating to All Programs, Accessories, Paint.
3. When the program opens, press Ctrl, V to paste your captured screenshot into Paint.
4. From here, Vista users simply select File and then Print to print their screenshot. Windows 7 users select Print from the ribbon menu.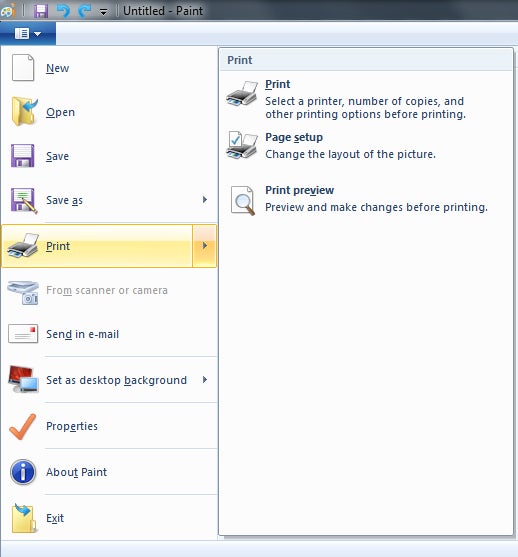 Windows Snipping Tool
For a more flexible approach, try the Windows Snipping Tool. It is available in all versions of Vista (except Basic) and Windows 7.
1. Find the program by going to Start, All Programs, Accessories; look for "Snipping Tool."
2. Click the drop-down arrow next to the New button to reveal the types of screenshots you can capture. The extra options with the snipping tool include the ability to perform a rectangular snip of any size and the ability to create a free-form snip of any shape you draw with your mouse. Make your selection.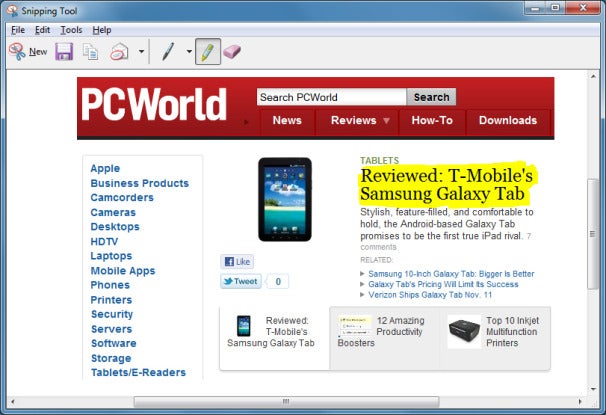 3. You can choose to copy your selection to the clipboard, e-mail it to someone, or annotate it with pen and highlighter tools.
4. To print your screenshot, you need to first save your file. Click on the Save icon, or go to File, Save as…, and you will have the option to save your snip as a JPEG, GIF, PNG, or HTML file.
5. Once the file is saved, simply double-click on the file to open it in the default program of your choice, and select File, Print… from the menu bar.