Whether they're feeding paper, moving print arms, heating toner, or spraying ink, printers are highly mechanical devices that create noise. But the last thing anyone needs is to have a loud printer breaking their concentration. Fortunately, you have a few ways to reduce the sound coming from a printer. Whether you want to muffle your existing printer or buy a quiet new model, keep these tips in mind.
Try Silent Mode
In general, the faster the printer, the louder the sound. Some companies, such as Canon with its Pixma line, offer a quiet mode in their consumer printers. This makes the printer arm move more slowly to reduce noise levels, but the pages will come out at a slightly reduced speed.
Choose a Laser Printer
If you're buying a new printer, consider a laser printer. A laser model is quieter than an inkjet because the printer fuses toner to the paper across a drum using electricity. Since the fusing process heats up the toner across the entire width of the paper rather than constantly moving a print arm back and forth as an inkjet printer does, pages tend to come out with less noise (and with sharper text). Most of the sound a laser printer generates is from the rollers feeding the paper through the fuser.
Go Wireless or Networked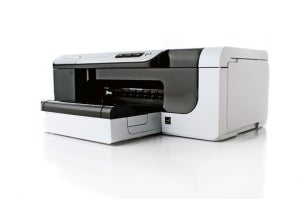 Moving the printer out of the room where you're working is another way to keep noise at a minimum. But then how do you print? You can get a wireless printer such as the HP Officejet Pro 8000 Wireless, which frees you from being linked by a cable. Or you can connect your printer to a router with a print port or a printer server, which achieves the same result.
Once you have dampened the annoying noise emanating from your printer, you can spend more time eliminating all those other distractions in life!