Apple's app removal processes have always been a little blurry, but over the Thanksgiving holiday, the company made one point clear: the App Store is no place for homophobia.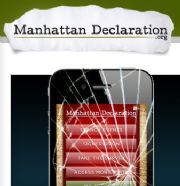 The product in question, the Manhattan Declaration app, was an offshoot of the religious cause's condemnation of gay marriage and, by association, homosexuality in general. In the Manhattan Declaration's screed, the independent group states that marriage is "a conjugal union of man and woman," and that support of gay marriage is synonymous with support of "promiscuity and infidelity."
Change.org created an online petition to remove the Manhattan Declaration app, and explained that the app "espouses hateful and divisive language." The app was originally rated 4+ — meaning it contained "no objectionable material" — but after Change.org collected more than 7,700 signatures, Apple pulled the app.
"We removed the Manhattan Declaration app from the App Store because it violates our developer guidelines by being offensive to large groups of people," Apple said.
The Manhattan Declaration released a statement asking Apple to reconsider its decision. To clarify its position on homosexuality, the group wrote that "disagreement" is not "gay-bashing" and therefore not in violation of Apple's policies.
"Anyone who takes the time to read the Manhattan Declaration can see that the language used to defend traditional marriage, the sanctity of human life, and religious liberty is civil, non-inflammatory, and respectful," the group wrote on its website.
The Manhattan Declaration claims that heterosexual marriage is the only righteous choice and that deviating from the traditional undermines "the dignity of marriage."
The group describes gay marriage as an "erosion" of godliness and says that homosexuality is "immoral conduct." Dodge blame with semantics all you want — the Manhattan Declaration couldn't be more transparent in its denunciation.
So while the Manhattan Declaration will continue its campaign to have its app reinstated in Apple's App Store, it's just not going to happen.