Just when you thought the showdown to be this holiday season's hottest tech gadget was going to be Microsoft's Kinect vs. Apple's iPad, Sony announces strong sales for its PlayStation Move motion controller. The PlayStation 3 accessory has reached 4.1 million in sales worldwide since launching in September, Sony said on Tuesday.
Sony's announcement followed Microsoft's boast that it had sold 2.5 million Kinects during the first 25 days the motion controller for the Xbox 360 was on sale.
Both devices appear to be popular, but which motion controller will be the "it" gamer toy to have this holiday season? Here are a few things to consider.
About those numbers
As PC World's gamer guru Matt Peckham recently pointed out, reporting on sales numbers can be a tricky thing. It turns out Sony's claim of selling 4.1 million PS Move units since September only represents how many device's have been sold by Sony to retail chains, and not by retail stores to home users. For all we know, there could be 2.5 million PS Move boxes sitting on store shelves worldwide, and only 1.6 million devices actually being used. That's unlikely, but possible.
It's also important to note the PS Move could actually be in more than 4.1 million homes worldwide since Sony's figure doesn't count stand-alone sales of the PS Move (i.e. devices not sold with a console) or the PlayStation Eye camera–an accessory you need to use the PS Move controller.
Related Slideshow: Kinect Games Launch Guide

Microsoft's figures appear to be sales to users as the company's press release said "retail sales" of the Kinect reached 2.5 million units. I've dropped Microsoft a note to confirm and will update this post if the company responds.
Regardless, both devices appear to be moving at similar rates so far. Sony announced it had shipped 2.5 million PS Move's worldwide during the device's first month on store shelves, the same number Microsoft announced for the Kinect earlier this week.
Install Base
A new motion controller won't do you much good unless you have a gaming console to go with it. Microsoft's Xbox 360 has an install base (number of active users) of about 22 million in the U.S., according to numbers from market research firm NPD that were recently quoted by a Nintendo executive. The PlayStation 3's install base is significantly less in the U.S. at 13.5 million.
While both the Kinect and the PS Move will likely spur more console sales, the overwhelming popularity of the Xbox 360 compared to the PS3 in the U.S. suggests the Kinect is the more likely winner this holiday season.
Hands Free vs. Hands On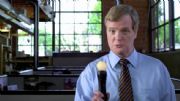 Then again, the PS Move and Kinect are two very different approaches to motion control gaming. Microsoft's Kinect is a completely hands-free experience that relies on a sensor bar to track your movements and thus allow you to respond to gaming elements with just your hands and body movements.
The PS Move is more like Nintendo's Wii motion controllers since you still have to hold controllers in your hand to play. PS Move's approach allows you to use controller buttons for those times you need a trigger button to shoot and other similar gaming elements. But the Kinect has that "Minority Report factor" that lets you interact with the computer just using natural gestures. If I had to guess, hardcore gamers would favor the flexibility the PS Move offers of combining motion control with traditional button-based gaming. The Kinect should have a greater appeal to families and non-gamers.
By the end of the holiday season we should have a better understanding of which approach will win out, at least in terms of popularity.
Connect with Ian (@ianpaul) on Twitter.