In the popularity contest between Android phones and the iPhone its tie. A Nielsen survey found even though Android phones are currently outselling the iPhone, potential phone buyers are equally likely to want either platform.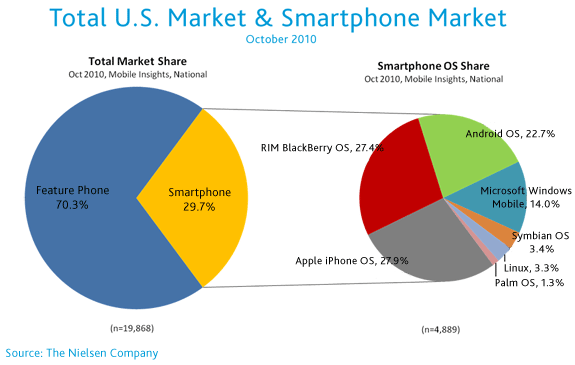 Nielsen asked current mobile subscribers who planned to upgrade their phones in the next year what platform they desired most. Apple's iPhone came out slightly ahead, with 30 percent of respondents, compared to 28 percent for Android. Nielsen considers this a tie.
Blackberry was far behind, with 13 percent of respondents saying they wanted RIM's phone. Windows Mobile had 6 percent desirability, but because the survey ended in October, it likely didn't account for the launch of Windows Phone 7.
Android's ability to hang with the iPhone in desirability bodes well for Google if Verizon Wireless picks up the iPhone next year, as rumored. While previous surveys have shown that Verizon customers would stampede towards the iPhone, Nielsen's survey suggests that Android will still be a popular choice among smartphone buyers.
Still, if consumers get what they want according to this survey, the iPhone will stop bleeding market share to Android and the two platforms will rise at a similar pace. It'll be interesting to see how Windows Phone 7 influences the race.
Some other interesting findings from Nielsen's survey:
* In current market share, the iPhone and Blackberry are neck-and-neck at roughly 27 percent. Android has 23 percent share. Smartphones, Nielsen said, account for nearly 30 percent of the mobile market.
* Women desire the iPhone over Android, 31 percent to 23 percent. More men want Android, 33 percent to 29 percent. This isn't surprising given the manly ads promoting Droid.
* Roughly 6 percent more people ages 55 and older want an iPhone, but the ratio is fairly even throughout other age groups. The older the person, the less decisive; More than a quarter of people ages 55 and up were unsure what they wanted buy next.
* Current smartphone owners were 7 percent more likely to want an iPhone, and feature phone owners were 3 percent more likely to want Android. This makes sense given that the iPhone is leading in market share, and iPhone owners love to upgrade.