Everybody knows that Al Gore gave us the Internet, but did you know that Verizon Wireless is the reason for the success of Google's Android mobile OS?
Verizon Wireless SVP Tony Malone does. "Android is a wonderful operating system, but Android really took off when Verizon got behind it," the exec said on a conference call with journalists this morning announcing that Verizon was launching its 4G LTE service in 39 markets on Sunday. He may have had a touch of 4G fever.
But assuming he didn't, let's have a quick look at his statement.
First of all, Android is used on all kinds of devices (not just phones). And Android is flourishing worldwide,in many markets where Verizon doesn't do business. Android is now the OS on 25 percent of handsets sold around the world (and that's after only just more than two years of existence). Verizon can hardly take credit for Android's worldwide success.
Bet even if Malone was referring only to the U.S. market, I still take issue.
IDC wireless analyst Ramon Llamas reminds me that Android awareness (and sales) rose sharply after the October 2009 launch of Verizon's Motorola Droid. Verizon's massive ad campaign went a long way to educating consumers about a smartphone that could run apps like the iPhone does, but did not depend on AT&T's less-than-dependable network, Llamas points out. People wanted that.
I also have no doubt that Verizon sells more Android phones than anyone else today. Verizon sells three of the five biggest selling Android phones in the U.S. today: the Motorola Droid, the HTC Droid Incredible and the HTC Droid Eris. Sprint's EVO 4G and HTC Hero also make the top five.
Also, given the fact that Verizon sells more smartphones full-stop (33 percent) than any other US carrier, it's not too surprising that it would sell the most Android phones.
But let's remember that Verizon has looked for a killer smartphone in the past, and has failed. It bet big on a Windows Mobile-powered Palm Treo back in 2006–sales were disappointing. Same thing a couple years later with the BlackBerry: big marketing push, but less-than-stellar sales. Finally, Verizon found the home run it was looking for in an Android phone, the Motorola Droid.
Verizon has clearly made a big bet on Android. But saying Verizon is the reason for Android's success just isn't the whole story.
It's kind of like saying that AT&T is responsible for the success of the iPhone. Sure AT&T has sold more iPhones in the U.S.– because of its sweet exclusive deal with Apple-but in real life, it's Apple that can take credit for the success of AT&T's wireless business.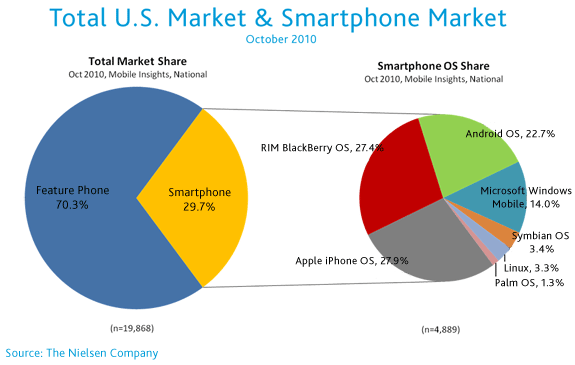 In truth, the Verizon/Android relationship has been mutually beneficial to both the carrier and the OS. Verizon wisely saw the attractiveness and growth potential of Android, and began working with companies like Motorola to put Android phones in its stable. Verizon wasn't the first: T-Mobile was the first U.S. carrier to embrace Android, with its G1 and MyTouch phones.
For Verizon, an Android phone was the only available counterpunch to AT&T's iPhone, as a device that would get people on its network and using gobs of high-margin wireless data. Wireless data, after all, is the future for Verizon, while voice service is a dying line item.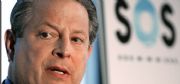 Going forward, is it the mobile OS or the network operator that is really benefiting from the relationship most? For consumers, the Android brand has far more star power than the Verizon brand. People are fascinated by Android. They talk about it. When's the last time you heard Verizon's LTE network discussed in mixed company?
Looking at it that way, Malone's comments seem off-key at best, and filled with corporate hubris at worst. I wonder if Larry and Sergey heard his comments this morning.
I wonder if Al Gore did.