The Android OS doesn't yet provide native support for printing. Thankfully, third-party developers have filled the void for Android smartphones. The most popular option is PrinterShare by Mobile Dynamix.
PrinterShare, also called PrinterAnywhere, has two printing modes: Nearby and Remote. Nearby mode prints to select Bluetooth- and Wi-Fi-connected printers straight from the phone. You can install the mobile app directly to your phone, choose your printer, and print. You can print a test page via Bluetooth or Wi-Fi at no cost to see if it works. In fact, you can print 20 pages for free; beyond that, you'll need to pay $5 for the full PrinterShare app.
If you don't have a Bluetooth or wireless printer (and most people don't), Remote mode prints over the Internet by installing "listening" software to your PC or Mac. When printing, the app "calls" the program on your computer via Wi-Fi and then prints through the computer to the attached printer. Because it establishes a peer-to-peer connection with your computer, it does not require a network printer.
In the step-by-step guide below, we'll cover how to install PrinterShare and print through its Remote mode.
Step by Step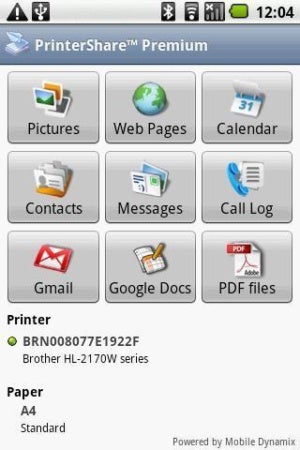 Step 1. Download PrinterShare for Android using your computer (Mac or PC). Connect your Android phone to the computer and run the PrinterShare installer. Through the computer side of the program, select which printer to make available to the Android phone.
Step 2. Launch the PrinterShare app on the Android phone. Make sure that the computer is turned on, Wi-Fi is enabled, and the printer is turned on.
Step 3. In the PrinterShare app, select the icon for the type of file that you want to print. You can print pictures, Web pages, calendar entries, contacts, messages, your call log, Google Docs files, or PDF files.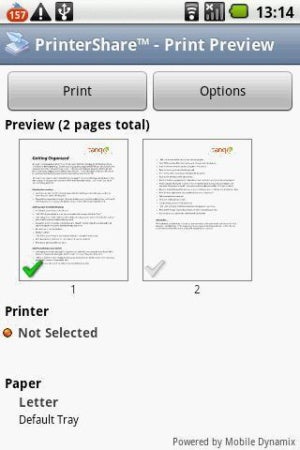 Step 4. Depending on what you select, PrinterShare will prompt you to navigate to the specific item to print. If the document has multiple pages, you can choose the pages to print. When you've made your selection, click the big Print button.
Whether you're printing a recently shot photo or a document sent via email, PrinterShare allows you to print quickly from your Android smartphone.