A recent ChangeWave survey posited that the iPad is chomping into Kindle's e-reader market share. The iPad jumped 16 percent to 32 percent, and the Kindle dropped 15 percent but still commands 47 percent of the market. Surely this means the downfall of the Kindle? No. And don't call me Shirley.
What Apple-crazed iPad junkies who herald the death of the Kindle, and Kindle fanatics with protruding tongues and turned backs don't understand — still — is that the iPad and the Kindle are two entirely different devices. Pitting them in a death match against each other is asinine.
The only comparison between the iPad and the Kindle I have drawn is that they are both consumer electronic products. That's it. Though it now features a few games, the Kindle is primarily for reading. The iPad is mobile entertainment that just so happens to have an e-book platform.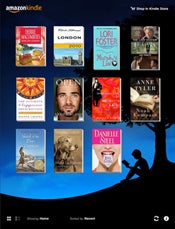 And don't forget that Amazon's Kindle app is available on the iPad itself, and because of this, the Kindle e-book store experienced a major boost in business: sales via the Kindle store are expected to grow 195 percent to $701 million in 2010, according to a study by Cowen and Co. That's just e-book sales. In terms of moving Kindles, Amazon's price reduction tripled hardware sales. So while the iPad also sells like gangbusters, it's not cannibalizing the Kindle as much as is excessively prophesized.
The ChangeWave survey specifically asked respondents which device they would choose as an e-reader, but when you think about it, these people — even if they tried wicked hard — can't completely disregard the iPad's multitude of other uses. It would be like looking at a MacBook as solely a vessel for solitaire.
Data and statistics aside, the silliness of comparing the iPad to the Kindle persists. Cut it out. It's not fair to either device. It's reasonable to say the iPad is killing the netbook and even gouging PC sales, but that's because those gadgets boast similar features — features unavailable on the Kindle.
Stop the iPad vs. Kindle debates. We've had enough.