At a Glance
Expert's Rating
Pros
Uses hardware you already have
Free e-book reader software offers color graphics
Cons
Lacks rivals' breadth of content
Lacks portability as yet
Our Verdict
Blio e-book reader software offers an intriguing platform for books with graphics and multimedia extras, but its dependence on PCs make it a poor substitute for a lightweight device you can carry in a purse.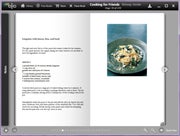 E-book readers aren't limited to the portable hardware devices that deliver traditional printed books in electronic format. Instead of focusing on new hardware, the folks at K-NFB Reading Technology (a company founded by voice recognition pioneer Ray Kurzweil) have developed PC software that re-creates the graphic elements of traditional printed books and effortlessly delivers related content such as multimedia.
That's the elevator pitch for Blio eReader, e-book reader software available as a free download for PCs, with iPhone, Android, and Silverlight versions (which will presumably run in any browser that supports Microsoft's Flash alternative) promised down the line. In my tests, Blio largely delivered on its promises, making it an intriguing alternative for to standard e-book readers for handling complex book content. At this point, though, Blio is not a serious substitute for a portable device when you want to read the latest New York Times best-seller while commuting.
Once installed, Blio launches into its Library View, which shows all of your Blio content as book covers on shelves, along with a quick start guide and a user manual. The interface is extremely polished and intuitive. The brightly colored book covers, designed to draw attention in brick-and-mortar bookstore shelves, achieve the same goal on a handsome backlit LCD display. You can also find out what others have thought of the book: Blio has partnered with GoodReads, a social media site where book lovers can share reviews with friends.
Content acquisition is the catch. You can obtain commercial Blio content through the Blio store, and you can get free e-books from Google–both are readily accessible via the top left of the Library View screen. K-NFB has partnered with a major book wholesaler, Baker & Taylor, to fill its store with titles from major publishers, but I couldn't find most of the top 10 books on this week's New York Times fiction best-seller list (all of which were available for the Amazon Kindle, and most of which I could buy as e-books from Borders).
When you attempt to buy your first e-book from the Blio store, the software presents you with a form for setting up an account (in addition to the account you must create for the software itself) and providing a funding source–a credit, debit, or gift card. After that, purchasing a title is as easy as buying a track or video on iTunes. I bought Gordon Ramsay's Cooking for Friends, which cost $18.60 on Blio (versus $23.10 for the hardcover book and $16.99 for the Kindle edition on Amazon).
The book was a 5.4MB download, owing to its heavy use of color photographs. Oddly, though the print edition is 272 pages long, the Blio edition runs 370 pages. Blio representatives told me that because this particular book was in ePub format (which Blio supports), it did not preserve the print layout. Unfortunately, there is no easy way to tell whether you're buying an ePub book or a Blio book before you make the purchase.
When I was ready to look at the book, clicking its icon (a reproduction of its cover) in Library View produced a pop-up window for initiating installation of Microsoft PlayReady, the DRM technology that Blio employs; PlayReady then assigns the PC a unique identifier. (Blio lets you synchronize content from a single account to up to five devices.)
Once the PlayReady installation (a one-time event) is complete, Blio offers you various views of your book, all accessible from a pop-up menu accessed by clicking the Book View icon in the lower right corner of the screen. The six principal views are double-page, single-page, thumbnail, text reflow, ReadLogic, and 3D. The first two are fairly self-explanatory: You see double-page spreads or single pages, which you can zoom in on or out from by clicking icons next to the Book View icon. To turn a page, you click arrows that pop up on either site of the page, or you use the scrollwheel on your mouse; Blio adds an animation effect that simulates the way a page turn looks on a paper book.
The thumbnail view shows several double-page spreads at a size that makes their content unreadable but provides sufficient visual cues to help you jump to specific locations in the book. Text reflow (which publishers can disable) is a traditional e-book reader format, with five type-size options and a choice of viewing the text in one column or two.
ReadLogic is a hybrid view that lets you read a book as it was laid out for print by automatically zooming in to text blocks in sequential order on a spread, and then zooming out so you can view the entire spread before proceeding to the next spread. This view seems especially well suited for situations where you want to maintain the relationship between graphical elements and text, while making the text large enough to be legible without causing eye strain.
The 3D view attempts to recreate the print reading experience by showing spreads as they might appear from a 45-degree angle (e.g. the bottom of the spread is wider than the top) and by providing animated page turns as you click arrows to the left and right of the spreads to flip through the pages. Ultimately, the realistic-looking page turns came across as a technologically impressive parlor trick that didn't improve the reading experience.
You can activate Blio's text-to-speech feature by clicking the Play button in the lower left corner (again, as with Text Reflow, the publisher can disable the feature). Though the female voice in my tests sounded a lot better than most text-to-speech playback, it was still recognizably robotic. As the voice recites the text, the software highlights the words; this combination could be useful for people learning a language or trying to expand their vocabulary. Blio supports downloads of additional voices speaking other languages, too.
Blio's navigation tools include a Table of Contents icon on the lower left (next to the text to the text-to-speech Play button) ; click it, and you get a pop-up list of contents linked to their location in the book. You can move to specific pages by adjusting a slider at the bottom of the Book View screen. By default it represents your approximate location in the book as a row of dots; for greater specificity, click that row to produce the slider button and a pop-up showing the exact number of the page you're on. As you drag the slider, the page numbers flash by to help you locate the right page number. I found this approach much more user-friendly than the Kindle's use of location numbers, which typically mount into the thousands and aren't very helpful for returning to a specific location.
Regardless of the view you're in, a Notes tab on the left side of the page brings up a column for note-taking that you can opt to pin to the display. Blio also provides easy access to other annotation and lookup functions via a text toolbar that pops up when you right-click a word or group of words. From this toolbar you can apply highlighter to the selection, write a note, or look up the selection in Bing, Google, TheFreeDictionary.com, Thesaurus.com, or Wikipedia (all lookups occur online in new browser windows within Blio, so you must be online to use them).
When you add a new note, a little window pops up in the note panel showing the selected text and its location. You can type your note into that window; or, you can insert an image or a Website link by clicking an icon at the bottom of the window. The image icon lets you navigate in Windows Explorer to the location of the image you wish to insert; the Web content icon brings up a field where you can type in the URL of the site you want to link to. This kind of interactivity distinguishes Blio from other platforms that can reproduce print (Zinio comes to mind).
Still, as PC software, Blio doesn't address a problem that helped goose the hardware e-book market: Many people find that glare from a backlit LCD screen fatigues the eyes. Kindles and many other e-readers use reflective display technology from E-Ink and other companies, which depends on ambient light and is generally more relaxing for prolonged reading. At this writing, of course, E-Ink displays are available only in grayscale configurations, with no support for color. The Barnes and Noble NookColor uses an LCD with a bonded screen to minimize glare.
As promising as Blio is, your content remains locked to your PC, at least until the promised Android and iOS versions become available. Blio's handsome interface can handle complex visual material, and that may make it worth trying–if you can find the content you're looking for. But if you just want to trade in stacks of conventional hardcover or paperback books for a single, handy, easy-to-use digital device, Blio is largely irrelevant for now.
Download Blio eReader for Windows XP or Blio eReader for Windows Vista and Windows 7.