If you have a photo printer (see PCWorld's recommendations), you have three good options for turning your digital photos into beautiful printed pictures. The first two ways involve using the Windows Vista and Windows 7 picture import wizard–a powerful yet straightforward tool for transferring images from camera to computer. The picture import wizard works seamlessly with most cameras and lets you organize and print your favorite shots easily. The third way relies on a technology called PictBridge to print directly from your camera, bypassing your PC altogether.
Print Photos From Your Windows PC
1. To transfer images from your camera to your computer, power down your camera, connect it to your PC via a USB cable, and turn on your camera. If you are working with a Windows Vista or Windows 7 PC, turning on the connected camera should engage the AutoPlay wizard.
2. To start copying your images to your computer, select Import Pictures and Videos.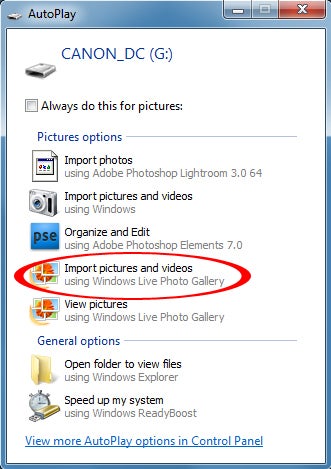 3. If the AutoPlay window does not appear at the end of step 1, open the Windows Live Photo Gallery, click Import, and select your camera from the list of devices shown.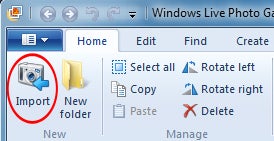 4. Windows will now scan your camera for photos and videos that it can transfer to your PC. When it completes the scan, Windows will open a summary window listing the image and video files it found on your computer.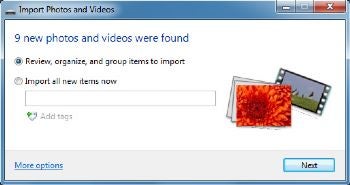 5. If you want to organize a large number of photos into groups and folders, leave the default Review, Organize and Group Items to Import option selected. If prefer to do this later, select Import All New Items Now and add tags that will help you find these photos. You can specify a destination folder by clicking More Options at the bottom of the summary window.
6. Click Next, and the Windows Live Photo Gallery will open and display the images you have just transferred to your computer. To select the photos you want to print, hold down the Ctrl key and click the images. Then press Ctrl – P to bring up your printing options.
7. The Print menu contains options for printer, paper size, number of copies, and print layout. If you want to adjust any of these settings, click Options… in the bottom right corner; otherwise, click Print to start printing your images.
Option: If you don't want to use the Windows Live Photo Gallery to import and print your pictures, look for bundled software on the disc that came with your camera, or try a premium all-in-one editor and organizer such as Adobe Photoshop Elements.
Print Photos From a Memory Card
Many photographers print photos directly from the memory card (such as SD or CompactFlash) where the images are stored in their cameras. This method avoids any need for USB cables or PictBridge support. You just plug the card into a memory card reader, and you're ready to go.
1. Remove the memory card from your digital camera, insert it into your card reader, and plug the card reader into your PC.
2. If AutoPlay is enabled on your Windows PC, a pop-up window will appear and provide you with various options. Choose Open Folder to View Files.
3. If Autoplay is not enabled on your PC, open an Explorer window from your taskbar, and navigate to your memory card in the folder window on the left. It will likely appear as a removable drive. Double-click the icon for the memory card reader to open it.
4. The window that appears next should contain an industry-standard folder titled DCIM (for Digital Camera Images). All major camera manufacturers use the DCIM folder as their root directory. Your images are located in subfolders named (usually) for the make or model of your camera.
5. Double-click the DCIM folder to find the subfolders where your images are stored. Your images will appear as thumbnails. To select the photos you want to print, hold down the Ctrl key and click the images you want. Then click the Print button.
6. The Print Pictures window gives you multiple options for printing your photos, including printer and paper size. Print layouts include single 8-by-10-inch images, nine wallet-size prints, and even a 35-image contact sheet.
7. Click the Options… link in the bottom right corner of the window to sharpen your photos before printing, and to adjust to your printer settings.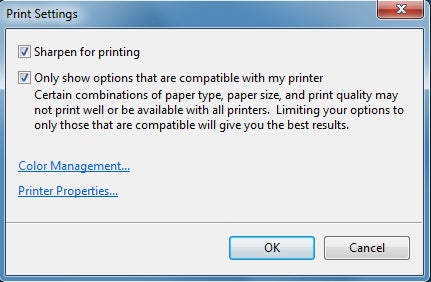 8. Click OK to return to your original Print menu, and click the Print button to send your chosen images to your printer.
Print Photos Directly From Your Camera
Printing directly from your digital camera to your printer saves time; and all major camera and printer manufacturers build in PictBridge functionality, which allows the process to happen. You can print single images, thumbnail contact sheets, multiple images, date-stamped images, selected areas of images, multiple copies, and more. Some features depend on your camera and printer, but PictBridge works well on a huge array of devices.
1. Make sure that both your digital camera and your printer are PictBridge-compatible. You can do this by visiting the CIPA Website or by checking your user manuals for each device. You may also want to check your product boxes: PictBridge-enabled products usually have the PictBridge logo printed on the manufacturer's box.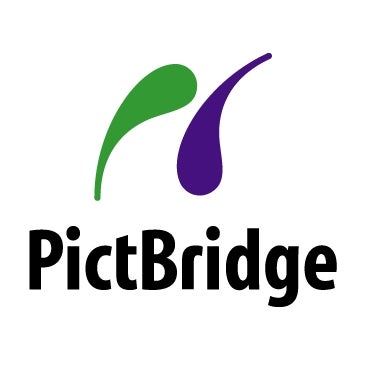 2. Though PictBridge works automatically on most Canon and Nikon cameras, some Olympus, Panasonic, and Sony cameras may require you to change the USB function on the camera in order to recognize a printer input. You'll perform this step in your camera's settings menu.
3. When you're ready, turn off your camera, and turn on your printer.
4. Connect the camera to the printer with a USB cable. Camera manufacturers usually include these cables with their cameras, and they're easy to replace if you misplace your original one.
5. Turn on the camera.
6. Your camera's LCD screen will start up, and you'll be able to navigate through the print options available to you with your particular combination of camera and printer. The interface varies slightly from one camera manufacturer to another, but you'll almost always use the camera's control pad to navigate through your images, selecting an image to print by pressing the OK button. On most cameras, you can access additional options by pressing the unit's menu button. Only functions available on both devices will be available for your use. You may be able to print a date-stamped image on one printer, for example, but not on another. Generally speaking, however, the newer your camera and printer are, the more print functions it will support.
7. Once you've finished printing, turn off your camera and remove your USB cable from both devices.