"Lite" and "Free" apps are a big part of the iPhone App Store, but similar demos and trial versions won't be welcome in Apple's App Store for Mac.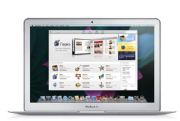 "The apps you submit to be reviewed for the Mac App Store should be fully functional, retail versions of your apps," Apple writes in an announcement to developers, according to Apple Insider. If developers want to give away demos, trials or beta versions of their software, they'll have to do it somewhere else, like their own Websites.
Apple announced the Mac App Store in late October, but didn't elaborate on the kind of apps that users would find there. It could simply be an Apple-sanctioned locale for popular Mac apps, but the store could also create a market for smaller, cheaper apps, like the ones that have become popular on iOS devices.
By putting the kibosh on free versions of paid apps, Apple puts a hole in the latter theory. Research from Flurry, reported by GigaOM in January, showed that free apps account for three quarters of all iOS App Store downloads, despite making up only one quarter of all apps in the store. Further research from Distimo shows that freemium apps, which are initially free but offer paid features or upgrades, have become a successful business model. Free apps account for one third of the iPhone's top-grossing apps.
The Mac App Store could still thrive on cheap, simple software — a desktop version of Angry Bird, I'm sure, would do quite well — but free apps give people an added incentive to go bargain hunting. In exchange for a Mac store that only sells paid apps, Apple could sacrifice some of the foot traffic that iOS's storefront enjoys.
The Mac App Store is expected to launch by the end of January.
Jared Newman is a Los Angeles-based blogger and journalist. Say hello on Twitter and also follow Today @ PCWorld.