PDF (portable document format) files are easy to share and print because most computers have the necessary software for viewing them. PDFs not only preserve your formatting but add a level of security because they're difficult to modify. Viewing and printing a PDF is easy–all you need is the free Adobe Reader. But converting a different file type into a PDF requires a separate program. Fortunately, you have several paid and free options. We'll demonstrate the process of PDF conversion with Microsoft Word and with the free PDF reDirect utility.
Convert Documents to PDF in Microsoft Word 2010
1. With the document that you want to convert open, click File, Save As.
2. Enter a file name in the 'File Name' dialog box, and choose PDF in the 'Save As Type' menu.
3. Choose your quality setting: Standard or Minimum Size.
4. Click Options to explore further ways to tweak the output. To include tracked changes and comments, for instance, select Print Markup. When you're finished selecting the Options items you want, click OK.
5. Click Save. If you want to view the file immediately after saving, make sure that Open File After Publishing is checked.
Note: For Microsoft Word 2007, download Microsoft's free add-in, Microsoft Save as PDF or XPS. After downloading and installing this update, use the instructions above to convert documents to PDF. For even older versions of Microsoft Word, you'll find the 'Save as PDF' option in the Print dialog box.
Use a PDF Creation Utility
With a print-to-PDF program installed on your PC, you can transform Web pages, documents, and images into PDF files. Several third-party programs for performing these transformations are available online. To find reviews of them, go to PCWorld Downloads and type PDF into the keyword search box. We'll demonstrate PDF creation using EXP Systems' PDF reDirect, which is compatible with Windows 7, Vista, and XP.
1. Go to the Print menu in the program you're using.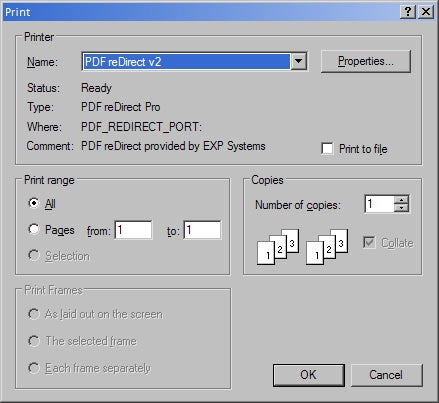 2. Select PDF reDirect as the printer.
3. Click OK to launch PDF reDirect.
4. In the PDF reDirect window, you can name your file, choose where to save it, select a quality level, and even add a password to open it. When done with these preliminaries, click Save to generate the PDF.
PDF Creation Reality Check
Keep your original files after converting them into PDF files. Restoring a PDF file to its original format is rarely a clean and simple task, and editing a PDF can be very difficult.
Typically, a PDF conversion accurately reproduces the original document. In some cases, however, the PDF conversion distorts or omits elements. For example, a PDF of a Web page may omit rotating graphics or ads. In such instances, you may need to take a screenshot of the Web page before running the PDF conversion.