Performance artist Wafaa Bilal isn't unplugging from the Matrix–he's plugging in.
Iraqi-American Bilal, an assistant professor at New York University's Tisch School of the Arts, has implanted a titanium plate into the back of his skull for the sake of his art. The plate allows Bilal to attach and remove a camera to the back of his head magnetically, for his project which is called "The 3rd I."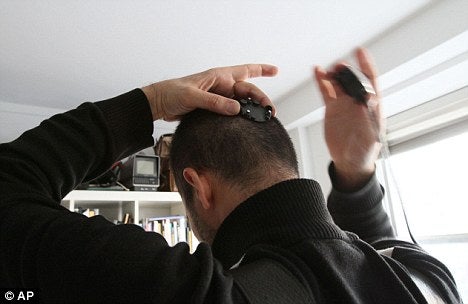 He'll remove the camera (or cover it with a lens cap) while he's on NYU's campus, to protect the privacy of his students. But off-campus he'll be beaming photos every minute via a notebook computer he'll be carrying at his side (and connected to the camera) to his "The 3rd I" exhibit at the Mathaf: Arab Museum of Modern Art, which is scheduled to open this month in Qatar.
"I wanted to lose that subjectivity of knowingly taking photographs," He told the London's Daily Mail , "At the same time I wanted to capture everyday mundane images."
We're sure he'll get a lot of "everyday mundane images" of people trying to figure out why he's got a camera sticking out of his neck.
The project is "a comment on the inaccessibility of time, and the inability to capture memory and experience," he added.
The plate, which was installed by a tattoo and piercing studio under local anesthetic, is waterproof, so Bilal won't have to worry about covering it up in the rain or in the shower.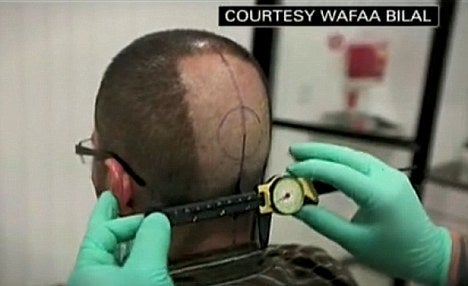 Suffering for his art is nothing new to Bilal–in 2007, he locked himself in a gallery in Chicago with a remote-controlled paintball gun that could be fired at him by visitors to a website ("Domestic Tension," 2007). In June 2010, he tattooed a map containing the names of Iraqi cities on his back. As American and Iraqi casualties mounted in the burgs, he added dots to the tattoo to mark the locations of the wounded and dead ("…and Counting," 2010).
When asked if the procedure hurt, Bilal told the Mail: "Yes, it hurt a lot."