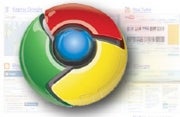 By now you've probably heard that Google is hosting a Chrome event on Dec. 7 in San Francisco. The press invite promised "exciting news about Chrome." Does that mean the Chromebook is finally upon us?
Maybe and maybe not.
The rumor mill has been churning for months.
Most recently, Digitimes, a Taiwanese Website, reported that smartbooks featuring Chrome operating system would debut this month. Back in August, a newly released beta of Chome 6 hinted at a tablet possibility. Menus were optimized for touch and reports said we might see a Chrome tablet in November.
Google's chief executive, Eric Schmidt, blasted both rumors. He told reporters at the Web 2.0 summit that Chrome is designed for devices with a physical keyboard and won't be available for a few months.
Tuesday's event might be the halfway point between Schmidt's comment and a public release of the device.
Engadget seems to think all signs point to a launch of the Chrome netbook on Tuesday, but is saying only around 65,000 units will be available "to Google's closest 'friends and family'." Engadget also got its mitts on a supposed image of the Chrome netbook keyboard on Friday. The tech blog does note that the keyboard looks pretty darn similar to the configuration of an earlier Acer Chrome netbook.
Whether this is an photo of an actual Google-branded device is up in the air, but it is interesting to note a few Web-related features. The caps lock key is switched out for a search button, the shift key has a caps indicator light and a few navigating function keys are positioned above the number row.
One thing is for sure, the clock is working against Google on this one.
Google first announced Chrome OS in 2009. The operating system was designed to be fast, web-focused, have a quick-start up time and run on devices with solid-state drives. Oh yeah, and Google even plans a Web store for Chrome apps. Back then, Google said that its partners, including ASUS, HP, Lenovo, and Toshiba, would have netbooks released in time for the holidays this year.
Netbooks were all the rage in 2009, but that isn't really the case in 2010. The iPad and other tablets have shown up on the scene and are destroying netbook sales. Google would be smart to hedge its bets, and make its beta OS a little more fu
ture-proof.
When Google announced Chrome in a blog post, it said:
"Google Chrome OS is a new project, separate from Android. Android was designed from the beginning to work across a variety of devices from phones to set-top boxes to netbooks. Google Chrome OS is being created for people who spend most of their time on the Web, and is being designed to power computers ranging from small netbooks to full-size desktop systems."
Do we really need Chrome OS for netbooks/desktops and Android for our portable devices? Why does it matter how people plan to use their device? Sounds like a recipe to further the fragmentation problem facing Big G's fan base.
Speed and ease of use are always king. If Google has a few tricks up its sleeve for Web browsing on Chrome, why not roll them into one future OS — say that 'Gingerbread' deal I've been hearing so much about.
Give us what Apple and Microsoft haven't: one operating system that can work with or without a keyboard and on a wide variety of devices. Then you'll be set for life.