Google has issued invitations for a media event on Tuesday, and all signs point to some sort of official unveiling of Google-branded netbooks built on the Chrome OS. Just in case you haven't been keeping up on the Chrome OS news, here is a little background and some idea of what you can expect from a Google netbook.
First, some history. Google originally announced development of its own Web-centric operating system in July of 2009. Chrome is a Linux-based OS, but one that does not work in the way any traditional operating system works. Chrome is more like a Web browser that can boot your PC.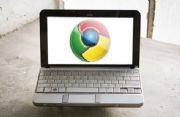 In other words, rather than starting an OS like Windows 7 or Mac OS X, then clicking on a Web browser like Internet Explorer or Safari, The Google Chrome OS simply boots into a Chrome browser interface–but more like the Chrome Web browser on steroids.
You won't be able to install software on a Chrome OS netbook like you can on a Windows or Linux netbook. However, similar to the way Apple integrated Mac OS X with the iPhone / iPad app functionality, Chrome netbooks will be able to extend the functionality of the device beyond Web surfing with Chrome apps. If Google delivers on its promise, the result will be a faster experience–optimized for mobile users that live in the cloud.
In fact, the media event on Tuesday marks a collision course between a few different Google initiatives that combine to create the Chrome OS experience. Chrome 8–the Web browser–has already been released, and it–like the Chrome OS–is designed to work with the Web apps that will be available in the Chrome App store.
I have not yet had the privilege of working with the Chrome OS, or a Google Chrome netbook, but it seems to me that the device sits somewhere between a more full-OS netbook like a Windows or Linux-based device, and the tablets of the world like the Apple iPad or the Samsung Galaxy Tab. It should have the form factor and physical keyboard of a traditional netbook, with the more instant-on, browser-centric app environment of a tablet.
One of the biggest questions remaining–and arguably the one that will most decide the fate of the Google OS–is price. Not just the initial price, but the ongoing monthly price if Google chooses to align the Chrome netbook with a specific wireless carrier for mobile Web access. But, with Windows netbooks starting under $200–and with Web browsing included for free–Google will have to have some aggressive pricing combined with a compelling argument for why someone should choose the Chrome netbook.
Don't hold your breath hoping for a Google Chrome netbook in your stocking this holiday season, though. The Chrome OS is still technically in beta, and Google is only expected to make about 65,000 of the Chrome netbooks available initially. The polished Chrome OS and Chrome netbooks ready for public consumption are not expected until sometime in early 2011.