Facebook launched a new profile page layout Sunday night that emphasizes the most important parts of your life, including your biographic information, photos, education, work experience, and important relationships. The new profile layout was announced during 60 Minutes as part of an interview with company CEO Mark Zuckerberg.
Facebook's new take on the profile page allows you to personalize and highlight the important parts of your life, while still maintaining Facebook's clean, simplified look. The tabs at the top of each profile page are gone, and have been replaced with links on the left side of the page.
The new Facebook profiles also make it easier to access the Facebook Friendship Pages announced in October. Friendship Pages bring together onto one page your wall post messages between you and a specific friend, as well as photos you are both tagged in, friends in common, and shared interests. To access Friendship Pages, just visit a friend's profile page and then click on the "See Friendship" link on the right. The new profile layout has to be activated to see the feature.
If you haven't got the new Facebook profile yet, you can activate it by clicking here. Otherwise, let's jump in and walk through Facebook's new profile features.
Facebook Biography

Across the top of your profile in the main column is a list of your basic information based on what used to be under the "Info" tab in the old Facebook profile layout. This section includes items such as your current job, where you went to school, where you live, your marital status, languages you speak, your hometown, and your birthdate. Any of this information can be removed from your profile by clicking the "Edit Profile" button on the top right side of your profile page.
Thumbnail Photo Strip
Below your bio information is a thumbnail strip of five photos you were recently tagged in. If you don't like the photos you see in your strip you can hover over each photo and click the "x" in the top right corner to hide it. It will then be replaced with another photo. (Clicking on the thumbnail takes you to the Photos section of Facebook, so you can see where — or who — the photo came from.)

You can't specify which photos you'd like to see in your thumbnail strip, so you'll have to cycle through your photos by clicking the "x" to get the photos you want. It's also important to note that the thumbnail strip is governed by your photo privacy settings. In other words, only the people who can see your photos will be able to see the thumbnails on your profile.
Streamlined Facebook Navigation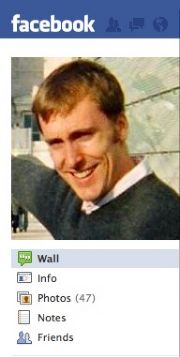 The new profile page removes the tabs that used to be at the top of your page, and moves them to navigation links on the left side of the page. This is very similar to how the current Facebook newsfeed page works.
You'll also notice that you can't highlight your favorite third-party applications by giving a featured link on your profile page as you could before with tabbed profiles.
Featured Relationships
Below the navigation links, your Facebook friends are grouped by their importance to you, which Facebook calls "featured relationships." For the most part, featured relationships are lists of people you create based on the Facebook friends you want to highlight. You could, for example, create a list of teammates or Facebook friends your grew up or went to college with.
By default, the top spot is automatically reserved for your significant other (boyfriend, girlfriend, wife, husband), and followed by your Facebook friends, your family, and any lists you create.
To change the order of these lists or to add new lists, click on the pencil icon that appears in the top right corner when you hover over each list. You can also click on "Edit Profile" in the top right corner of your profile page and on the next page select the "Relationships" link on the left.
Education and Work
Below the thumbnail strip of highlighted photos is a section for your work and education experience that is fairly similar to how it looked before. The big difference is that now you can add fellow co-workers to your past and present employers. You can also list major projects you worked on during your tenure at each job. Facebook Software Engineer Josh Wiseman, for example, has listed that he most recently worked on the Facebook Profile revamp with seven other Facebook employees.

Under education, you can add a list of courses you took at school and who among your Facebook friends took those classes with you. Facebook CEO Mark Zuckerberg notes on his profile that he took CS161.Operating Systems at Harvard with two of his Facebook friends. In my tests, Facebook does not have access to course calendars, so it will be up to you to give the classes you want to add a specific title.
Likes and Interests
Below your work and education experience are lists of your interests such as your favorite movies, television shows, and books.
Your favorite quotes have been moved under a new section called "Philosophy." Facebook has also added a sports section where you can add sports you play and who among your Facebook friends you play with. You can also add your favorite professional sports teams and your favorite professional athletes.
Beyond the new sections, your profile page is rounded out with your miscellaneous likes and interests and your contact information.
Facebook says its new profile design will roll out over the next few weeks, and everyone should have it by early next year. If you can't wait for it to roll out to you, click here to get the new Facebook profile now.