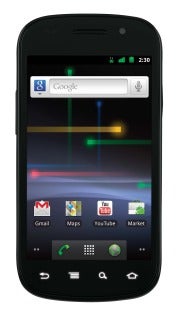 It has been a busy morning in Mountain View as Google has announced the official details and specs regarding Android 2.3 (also known as "Gingerbread") as the well as the first phone to ship with the new version of the operating system. The Nexus S will be available (unlocked or with a T-Mobile service plan) and can be purchased online and in-store from Best Buy starting after December 16.
Like the Samsung Galaxy phones (like the Vibrant or the Epic 4G), the Nexus S will sport a 4-inch Super AMOLED display. The display is also curved (what Google and Samsung is calling a "Contour Display) to fit comfortably next to your face. But unlike the Galaxy phones, the Nexus S won't have the Samsung TouchWiz overlay for Android. According to Google, the two companies worked together to deliver the most "pure Google experience."
The Nexus S is powered by a 1GHz processor (presumably Samsung's Hummingbird processor) and comes with 16GB of on-board memory. It has a 5-megapixel camera as well as a front-facing camera for video calls. According to Google, applications in Gingerbread can make use of any cameras that are available on a device, for either photo or video capture. Expect front-facing cameras to become the norm for all high-end Android smartphones next year.
Another interesting feature is the Nexus S and Gingerbread's support for NFC (near field communication). NFC lets you read information off objects like stickers and posters that are embedded with NFC chips. This technology will allow you to make payments directly from your phone. Ideally, you just simply hold your Nexus S in front of a retailer's sensor and your purchase will immediately be placed onto your account.
Check out this video of the Nexus S in action:
So, does the Nexus S impress? Do you see yourself using NFC? Sound off in the comments below.