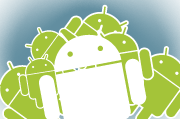 Google today rolled out the latest version of its Android mobile operating system, called Android 2.3 or "Gingerbread." The update includes support for mobile payments, VoIP calling, one-touch copy and paste, support for multiple cameras (for videoconferencing apps) and improved power management.
Google says the new OS will make Android phones operate faster than phones running the old Android 2.2 OS. The first phone to run Gingerbread is the Samsung Nexus 2. Here are the details around the improvements and added functionality:
Support for Mobile Payments
As expected, Gingerbread allows new Android phones to make mobile payments by supporting NFC (near field communication) chips. NFC chips can effectively turn your smartphone into a credit card of sorts by broadcasting data to other NFC-speaking machines. For example, a user could walk into a store, swipe his or her phone on a NFC sensor there, and pay for goods without having to pull out a credit card or cash. Some retailers may start accepting smartphone payments as early as next year.
One-touch Copy and Paste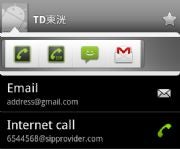 Using Android 2.3, users can press and hold on a piece of text, then copy the text to the clipboard for pasting later. After pressing down on a word or phrase, the user can zero in on just the text they want by positioning a set of "boundary arrows" around the selection, then copying.
Improved Power Management
Android now does more to make sure that applications you are not using are put to sleep so that they are not using the CPU and depleting the battery. The Application Settings screen now gives the user a clear view of which apps are using battery power.
Internet Calling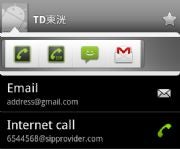 With Gingerbread, Android users will be able to add an internet calling number (a SIP address) to any of their contacts, and place a VoIP call with one touch from the Quick Contact or Dialer screens. However, Google notes, the maker of the smartphone or the carrier that sells the phone can disable SIP support if they choose.
Multiple Cameras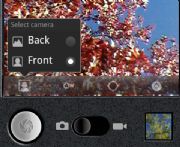 Android now can directly support multiple cameras on smartphones. This allows users to place video calls using a front-facing camera to capture their own image, while seeing the image of the other person on the screen. Other applications using both a front-facing and rear-facing camera on the phone are sure to emerge as developers begin using the new functionality in the OS.
Google says it will begin open-sourcing the new version of the OS to developers, who can begin building their own functionality on the platform.
Gingerbread also includes:
Various user interface refinements for ease-of-use
Reshaped keys on the virtual keyboard for more accurate typing
A shortcut to the Manage Applications control now appears in the Options Menu
A new downloads app is added to help users easily access and manage downloaded files