Research in Motion (RIM) has purchased the Astonishing Tribe (TAT), a Swedish company that by its own admission creates "beautiful user interfaces." Working behind the scenes, TAT's technology has provided custom interfaces for phones produced by Samsung, Motorola, Sony Ericsson, and others. A small company of around 200 employees, TAT provides a complete software and design stack–everything from the user-interface framework (which it calls TAT Cascades) to the actual user interface designs.
Much of TAT's recent work has been on the Android platform, but it's very unlikely that will continue after the RIM acquisition. As such, the purchase of TAT is as much strategic as it is a move by RIM to buy innovation.
A lot's been happening recently at RIM headquarters, and the acquisition of TAT is perhaps yet another indication that BlackBerry is taking seriously how much it has fallen behind in the smartphone wars. Commentators suggested that the new version 6 of the BlackBerry phone OS merely caught up to Google Android and Apple iPhone devices, but software such as TAT's should allow RIM to leapfrog its rivals.
TAT specialises in making 3D interfaces that both look good and are intuitive to use. Recent demos of their technology have shown phones that are able to seamlessly slip into 3D view mode based on the position of the user's hand, via the phone's built-in accelerometer. Combined with compasses found in cutting-edge phones, this has obvious advantages when it comes to mapping software, for example. The company also has demonstrated face recognition technology.
Perhaps surprisingly, TAT's software leaves in the shade anything currently on offer by Google Android or Apple's iPhone. Even more surprising is that its technology works with the existing generation of handsets.
This acquisition follows that of operating system maker QNX earlier this year. QNX powers the PlayBook tablet, coming soon from RIM, and it seems at least some of TAT's software will make an appearance in the PlayBook. However, it's no secret that QNX will probably come to some if not all BlackBerry phones at some point in the future, and TAT's UI software will probably move across too. It might simply be the case that RIM is waiting for mobile phone chipset hardware to reach the right ratio of price vs. performance vs. power consumption.
However, it would be naïve of RIM to think that the user interface makes the phone. After all, if that were the case we'd all be using Windows Phone 7, which, despite its sins, looks good and is reasonably intuitive to use. And although Apple products are sometimes criticised for having 'flashy' user interfaces, the fact is that OS X and iOS are very subtle when it comes to visual effects. They're only ever used as an aid to usability.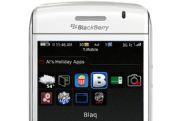 Additionally, BlackBerry phones have a significant business user base, and such users tend to like things to stay just the way they are, albeit with the gentle addition of new features here and there. However, RIM barged ahead with version 6 of its phone OS, which effectively redesigned the entire operating system and which ruffled the feathers of some loyal users.
It's not clear what the QNX and TAT combo will mean for the long-term future of the older OS, but another significant overhaul to the BlackBerry user interface so soon after the previous one is sure to cause upset and confusion. However, should RIM introduce its QNX+TAT combo too late then it runs the risk of once again falling behind.
There are undoubtedly some difficult decisions ahead for RIM but it's arguably more forward-looking than it has been for some time. With a vastly improved app store compared to just a year ago, could it be that things are beginning to look up for the most venerable of the cell phone manufacturers?
Keir Thomas has been writing about computing since the last century, and more recently has written several best-selling books. You can learn more about him at http://keirthomas.com and his Twitter feed is @keirthomas.