Results from a new Consumer Reports survey puts into real numbers iPhone owners' continuing unhappiness with AT&T's network service, and suggests that a Verizon iPhone would be warmly welcomed by consumers.
The new report has AT&T in last place among major wireless carriers in customer satisfaction. AT&T customers–half of them iPhone owners–gave the carrier dismal marks ("worst") for the overall value of its network service, for voice calling, and for wireless broadband service. AT&T got an overall score of 60 out of 100–nine points shy of the next-to-last carrier T-Mobile, and 6 points down from its performance in a similar CR survey last year.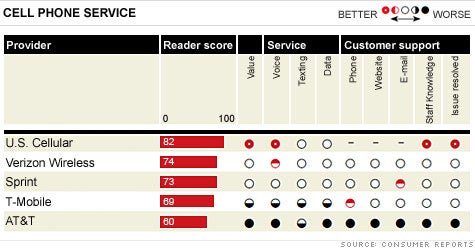 Exodus Coming?
Many of those unhappy AT&T iPhone owners might buy a Verizon iPhone should one appear, defecting from AT&T even if it costs them a penalty to get out of their contract. "Our survey suggests that an iPhone from Verizon Wireless, which is rumored, could indeed be good news for iPhone fans," says Consumer Reports electronics editor Paul Reynolds.
Equities analysts have already begun speculating on how large the exodus of iPhone lovers from AT&T to Verizon would be, some putting it as high as 6 million off the bat. Large numbers of existing Verizon subscribers–smartphone and feature phone users alike–would likely upgrade to an iPhone as well. Verizon has invested heavily in Android phones, but likely still hungers to get in front of the enduring demand for the iPhone.
The iPhone Blessing-Curse
The iPhone has been a blessing and a curse for AT&T. It's been a blessing because it made AT&T a top-shelf wireless carrier. New AT&T subscriber activations shot up with the launch of the iPhone in 2007; and demand is higher than ever: AT&T activated a record 5.2 million iPhones in Q3 2010.
But that success with the device has not come cheap. Analysts believe that AT&T continues to subsidize each iPhone it sells by about $400. More importantly, the iPhone has been a curse because the data-hungry device caught AT&T off-guard, overtaxing the AT&T 3G data network and angering many customers to the boiling point. AT&T customers haven't forgotten.
Some have asserted that a Verizon iPhone might similarly overload Verizon's network. That seems unlikely–not because Verizon has better network engineers than AT&T, just wiser ones. Verizon has had the luxury of learning from AT&T's mistakes–its failure to anticipate and react to the enormous wireless broadband demand of iPhone users.
Meanwhile, Verizon's marketing execs are salivating at the prospect of selling a device that can lure so many new and existing subscribers into new two-year contracts so quickly. If the growing buzz of speculation is correct, their time is about to arrive.
From Apple's point of view, it's exclusive deal with AT&T has likely reached a tipping point after which ignoring the opportunity to sell iPhones to non-AT&T subscribers no longer makes sense. Reports like Consumer Reports' showing the stigma around AT&T's wireless network probably don't increase the carrier's luster in Apple's eyes either.
The LTE Factor
Apple has said that one reason it signed the iPhone exclusivity deal with AT&T in the first place was its confidence in the capacity and performance of AT&T's network. If that truly is an important factor to Apple, it can't deny the Verizon has jumped ahead of AT&T in evolving its network. Verizon launched its new 4G LTE network in 39 markets December 5.
"I think 4G will accelerate the process, and any other decisions Apple makes would be fine with us," said a (publicly) defiant Verizon CEO Ivan Seidenberg in September. "Hopefully, at some point Apple will get with the program."
A 4G LTE Verizon iPhone could become possible far sooner than an AT&T LTE iPhone. AT&T has yet to begin its 4G LTE roll-out; its scheduled to begin sometime in 2011.
Perception and Reality
AT&T says it has spent $2 billion over the past year to improve its network. And AT&T's showing in PCWorld's last round of wireless network performance testing reflects an impressive improvement in the capacity and performance of its network. After testing all four major wireless data networks from 20 locations in 13 cities, we found that AT&T's 3G data service was 67 percent faster than the average speeds of its peers.
You wouldn't know it from the attitude of many AT&T iPhone subscribers, whose perception of their network service is decidedly negative.
Consumer Reports' findings on AT&T seem to agree with those of PCWorld's recent Reliability and Service survey, in which we asked thousands of smartphone-using readers to score their satisfaction with sound and reliability of voice calls, as well as with the speed and reliability of their mobile broadband service. AT&T subscribers gave their network service–both voice and data services–the lowest marks of any other major wireless carrier's customer base.