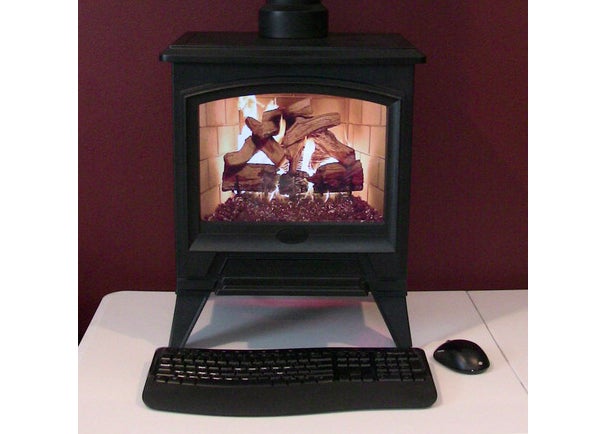 We've seen all sorts of crazy case mods here at GeekTech, but we've never one quite like this. Modders-Inc member "Bobdbone" picked up a cheap electric wood stove. Once it was in the modders hands, he took it apart to inspect the insides. The interior of an electric stovecontains lights that shine onto rotating strips of metal, creating the illusion of flames. It also contains a lot of empty space. What is a geek to do with all that space? Bobdbone's answer: Fill it with a computer, of course.
Once Bobdbone insterted the PC into the stove, he mounted a monitor to the front, and straightened out a few bends in the stove's frame to fit typical PC components. Add in the requisite wiring and openings for ports and the disc drive, and you have one very unique computer case.
Bobdbone tried to keep the original stove element to the case by not only adding a chimney, but using a chimney that smoked (he used a custom made smoke generator). Dobdbone also addedsome subtle LED backlighting and crackling fire sound effects. To get the ultimate effect, when the computer is not in use he can just slip in a DVD with a flame graphic going, and switch on the other fire effects.
So, normal PC and gaming machine by day, relaxing fake wood stove by night. Pretty neat trick to show friends when they are round, huh? You can get the detailed instructions (with pictures) on the forum thread.
[Modders-Inc / Thanks, Dewayne!]
Like this? You might also enjoy…
Follow GeekTech on Twitter or Facebook, or subscribe to our RSS feed.