Android fans won't have to wait much longer to get their hands on an optimized version of Android for tablet devices. Andy Rubin, Google's vice president of engineering, debuted an early version of Android 3.0 (Honeycomb) running on a Motorola one-panel tablet device on Monday during the D: Dive Into Mobile Conference in San Francisco. The introduction of Honeycomb came shortly after Google launched Android OS 2.3 (Gingerbread) on the Samsung Nexus S.
Rubin didn't offer much in the way of specific details about the Motorola device or Honeycomb, but there were a few interesting tidbits. The new mobile OS will be optimized for tablets, but will also run on smartphones similar to what Apple has done with iOS 4.2.
Rubin didn't mention screen size, but Motorola's tablet appears to be larger than the 7-inch Galaxy Tab and probably a little smaller than the 10-inch iPad. It also had a webcam, and an NVIDIA "dual core 3D processor" that Rubin suggested was a new chip under development. "You take a new processor…you take a new screen and you get everything working for the first time," Rubin said, explaining how Google is working closely with manufacturing partners to develop Honeycomb.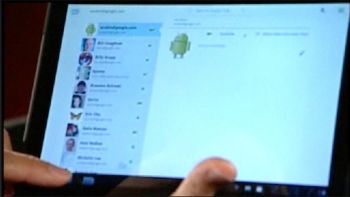 The Motorola tablet lacks any physical buttons its front. Instead, Android 3.0 (at least for tablets) will allow manufacturers to use software-based home and back buttons that move depending on whether the device is landscape or portrait view. The iPad, by comparison, has one physical home button on its front.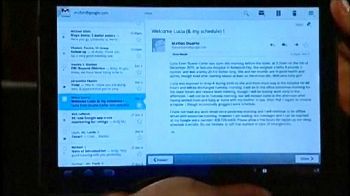 As far as apps are concerned, Gmail will look very similar to the two-panel view available on the iPad, and the device was loaded with a video chat client. Rubin was also showing off a new version of Google Maps for Android that is due to be released to Android users in the coming days. The new Google Maps will allow you to zoom in and view 3D renderings of buildings. The mapping application will also draw maps on your device in real time instead of downloading small sections of the map that have to be reloaded every time you scroll to a new location on the map.
It's not clear when Honeycomb or the Motorola tablet will become available, but Rubin did say Honeycomb would be released "sometime in 2011." Motorola's tablet looks promising, and confirms persistent rumors that an Android-based Motorola slate was in the works.
It's clear that people are interested in an Android-based iPad competitor. Samsung recently announced it had sold one million Galaxy Tab devices in just two months after launching the tablet in worldwide in October.
Andy Rubin Demos Android 3.0 on a Motorola Tablet.
Connect with Ian (@ianpaul) on Twitter.