As Google Maps for Android becomes more powerful, buying a standalone GPS device becomes harder to justify.
An update to Google Maps for Android, which will roll out in a matter of days according to the New York Times, includes 3D building images in major cities and dynamic rendering for a smoother experience while panning and zooming.
But the biggest new feature, and the one that poses the latest threat to dedicated GPS devices, is offline mapping and navigation.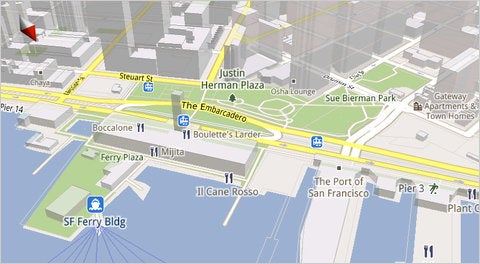 Previously, Google Maps Navigation would cache a single route when you looked up directions, so if you got lost in a dead zone, Android couldn't help out. After the update, Google Maps will store maps of your most-frequently searched locations locally. Although GigaOM reports that you won't be able to look up new locations when you're offline, you will be able to get turn-by-turn guidance after navigating off-course.
Google Maps Navigation debuted in October 2009, bringing turn-by-turn voice guidance to Android phones. Nokia followed in January, and although the iPhone's Maps app doesn't have voice navigation, Mapquest 4 Mobile's free app does.
But GPS defenders noted one critical flaw in Google's approach: You need a data connection to navigate on a phone. Standalone GPS units, and official maps from companies like TomTom and Magellan, store all their map data locally. Both Google and Nokia have now figured out ways to capture some of that offline experience.
Of course, there are still reasons you might want a GPS device. They come in lots of shapes and sizes, and they can be installed onto your car's dashboard, they don't come with a monthly data bill, and they still store all maps locally, not just the ones you use most. Indeed, GPS devices are among this year's most popular holiday gifts according to Consumer Reports.
But with exploding growth for smartphones in general and Android in particular, users may find that their phone's built-in navigation is good enough, especially when "good enough" is getting better.