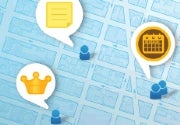 One of the first things I thought of at the announcement of Facebook Deals, was the possible demise of the pioneer in location-based services, Foursquare. I'm sure I wasn't alone.
But Foursquare , speaking at the WSJ's Dive Into Mobile event, says he doesn't see Facebook Deals as a threat. Quite the contrary.
"It's ultimately good for the [location-based services] industry," Crowley said. Pressed by moderator Kara Swisher, Crowley explained that his company does something different and more than what Facebook is doing with Deals.
"We have always said that the check-in is going to be a commodity, Crowley said. "The check-in itself isn't interesting; it's what happens after the check-in that matters.
Crowley is talking about the gaming mechanics element that is a big part of Foursquare. In Foursquare, users earn badges and "mayorships" based on how many times they check in from specific locations.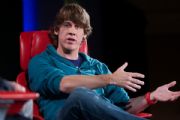 Crowley says the main benefit of Foursquare is its utility. Foursquare allows users to get place recommendations and information from their friends and others based on where they check in. For instance, a user might get a notification on their phone saying something like "the oldest elevator in New York is across the street."
"The point is 'how do we make New York easier to use?'" Crowley said.