If you carry one cell phone for work and another for personal use, you'll be pleased to hear that LG will soon release a phone capable of securely switching between home and work identities, and in a way your IT manager will approve of.
The trick is achieved using virtualization software from VMWare, which runs as an application on top of the phone's Google Android OS. Although the precise details haven't been explained, it's very likely VMWare's Mobile Virtualization Platform (MVP) is behind the magic.
LG explains that users will simply tap a VMWare icon on the phone's touchscreen and the phone will instantly switch identities–and phone numbers. The phone will most likely take two SIM cards to accommodate the two identities.

The second identity will be one entirely managed by the corporate IT department, letting them ensure security and compliance regulations are adhered to. It will have its own set of apps and contacts, and the IT department will have the power to shut down the work account should the employee lose the phone.
Virtualization on cell phones is expected to be a growth area in the coming years but hasn't really been possible until now because of the performance limitations of mobile phone hardware. VMWare announced its Mobile Virtualization Platform over two years ago and demonstrated it in use early last year, but it's taken until now for the first model to be commercially released.
VMWare envisions a future where a work identity is installed on a phone the employee has purchased themselves, based on their personal needs. With some temerity, VMWare claims that its virtualization technology is therefore a potential cost cutting measure for IT departments, because it could reduce spending on cell phones.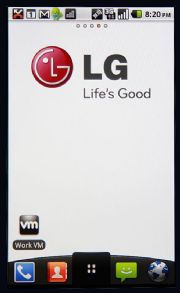 Cell phone hardware is rapidly improving. Most cell phones use ARM-designed chips, and the company's latest effort in the form of the Cortex-A15 includes not only improved performance but also virtualization extensions that could dramatically improve virtualization performance. It's likely this is fueling VMWare's interest in the mobile phone marketplace
Having two identities on one phone has been offered on various phones for several years, but virtualization makes all the difference here. Essentially, two operating systems are able run on the same phone simultaneously, and are entirely separate from each other. The second operating system will be entirely unaware that it's not running natively and exclusively on the phone hardware, although the second OS is likely to be modified in various ways to boost performance in a virtualized environment.
In LG's case the two operating systems are almost certain to be instances of Android, but in theory the second operating system could be anything that is able to run on the same hardware platform–which is just about any other phone OS. It's unlikely that Microsoft or Research in Motion would license their phone operating systems for use on top of an Android-based phone, but IT departments could run earlier or later versions of Android compared to the one already installed on the phone, depending on their needs. A stripped-down version of Android with no bells and whistles would present fewer potential security issues, for example.
The new phone is due early in 2011. Verizon Wireless is mentioned by LG as already having expressed an interest but this raises an interesting question: who will buy the phones? Workers, or businesses? LG's primary spin on the phone is a business orientation, so will the phone have enough consumer-friendly features? Will it be sold as part of a consumer-friendly price plan?
Ultimately, is the ability to let your employer own and control a part of your phone that big a selling point for a consumer device?
Keir Thomas has been writing about computing since the last century, and more recently has written several best-selling books. You can learn more about him at http://keirthomas.com and his Twitter feed is @keirthomas.