Google announced Tuesday the first Chrome OS notebooks are a half a year away, but diehard Google fans can apply now for the Cr-48, a pilot netbook.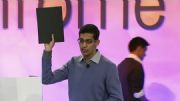 The Cr-48 has a 12.1-inch screen, a full keyboard, an oversized touch pad, world-mode 3G, 802.11 Wi-Fi, a Web cam and 8 hours of active battery life. It has a solid state drive, the size of which was undisclosed. Processor details weren't revealed either.
To get a Cr-48, users must apply to the pilot program on Google's Website or submit a video to Chrome's YouTube channel explaining why they want to be part of the program. A few Chrome users will also be presented at random with an order page when starting the Web browser, and some Facebook fans who took a recent quiz will be selected for the pilot program as well.
For everyone else, Acer and Samsung will launch the first Chrome netbooks with Intel processors in mid-2011. Pricing won't be revealed until then. Google said it still has some bugs to work out and features to develop before it releases Chrome OS to all.
Chrome OS intends to strip computing down to only the Web browser. In doing so, Google hopes to offer perks like fast start-up times, instant resume from standby, automatic updates and syncing to any computer.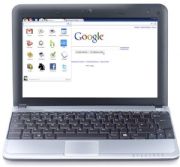 Applications will mainly come from the Chrome Web Store, a marketplace for Web apps that rolls out today. For businesses, Chrome OS will be able to run desktop apps such as Microsoft Excel from private servers.
Google and Verizon also made a deal to include 3G service with Chrome OS notebooks. Free 3G coverage will be included for two years from purchase, and contract-free wireless plans will start at $9.99 per month. Users can also buy day passes for wireless coverage.
When there's no connectivity available, Google says many apps in the Chrome Web Store will work offline, and will sync to the cloud automatically when users get back on the Internet.
Tuesday's Chrome OS news was pretty much what the rumor mill predicted. Chrome OS notebooks are still a ways off, but the operating system's heart and soul, the Chrome Web Store, launches Tuesday. The development of this store, and whether it can provide a good enough computing experience in the cloud, will ultimately determine how useful Chrome OS will when hardware becomes available next year.
Jared Newman blogs for PC World from Los Angeles. Say hello on Twitter .