The buzz-worthy European music service remains stuck in negotiations with record labels for the right to enter the US market.
Will the free music service Spotify be the next great casualty of the US record industry's continued misunderstanding and fear of digital music distribution?
When I saw Spotify founder and CEO Daniel Ek speak at South by Southwest last spring, he said negotiations with the labels were progressing, and that Spotify would launch on desktop and mobile platforms in the US this year.
Ek, speaking at WSJ's Dive Into Mobile event today, now says he "can't commit" to a 2010 launch.
Spotify garnered worldwide attention because of the unprecedented rights and control the music service gives users for little or no cost. Most of Spotify's users pay nothing for the service, but can play any music they want–on demand–in exchange for viewing some ads. Only about 750,000, or about 7.5 percent, of Spotify customers actually pay for the service. Still that's up from the 320,000 who were paying at the time of SXSW last spring.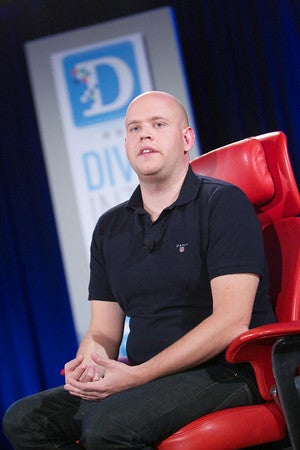 In Europe, Spotify customers can choose to pay about $13 USD per month for unlimited access to the Spotify library of more than 10 million tracks.
Spotify is now trying to sell a music subscription service, in which users can sample music for free but must pay a $10/month fee for the right to download it. Several other music services are using the same model, including MOG and Rhapsody.
But Spotify got a much better royalties deal from the labels in Europe, and can't get the same terms in the US market, which accounts for about half of worldwide music sales. So what's the problem? What's preventing a deal from being struck? In a word, fear.
Ek has a more delicate way of saying it: "We are in a really interesting time right now. They [the labels] are still trying to get their heads around the space. They are seeing what we are seeing, with mobile and social. They want to make sure that if this is going to move on to be the next thing they want make sure they are setting the right precedents with free models, ad models, subscription models."