Do you want to test drive a Chrome netbook for free? Google is looking for you. It launched a pilot program Tuesday to gather feedback about its new netbook platform and is accepting applications for it until Dec. 21 from anyone who is at least 18 years old and lives in the United States.
Judging from the application for the pilot program, Google's looking for testers from several areas–business, education, non-profits, developers and individuals.
According to the company, the best candidates for the program are people who "live on the Web" and are not faint of heart. "Things might not always work just right," it cautions.
Each participant in the pilot will receive a black Cr-48 Chrome Notebook. The unit boots up in about 10 seconds and recovers from sleep mode instantly, according to Google. It has Wi-Fi and 3G connectivity from Verizon, as well as a Webcam for video chat.
Other features of the 3.8-pound unit include a 12-inch display, full-size keyboard, eight hours of active battery life, and a week of standby time.
What has been left out of the netbook may be as important as what Google put into it. It doesn't have a hard disk or caps-lock or function keys, and you can work with it on your lap for extended periods of time without burning your thighs.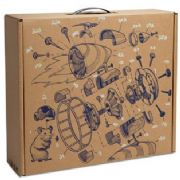 While the pilot is open to a variety of users, Google is particularly targeting business users with the platform. The devices are secure, easy to administer, have a low cost of ownership, and integrate with Google Apps, which is used by many businesses.
Ready for prime time Chrome netbooks made by Acer and Samsung should be available in the first half of 2011, according to Google.
The company also noted that the Chrome OS is designed to work across a wide range of screen sizes and form factors, so it will be easy to extend the OS beyond netbooks.
When Google announced the Chrome OS a year ago, it bragged that it would have netbooks based in the software available for the 2010 holidays. It may not have met that deadline, but at least the test program removes the vaporware stigma from the platform.