Is AT&T the worst wireless carrier in America?
That topic was brought up right after Glenn Lurie, AT&T's Senior Vice President of emerging technology, took the stage at the Dive Into Mobile conference in San Francisco today. Session moderator Walt Mossberg of the Wall Street Journal asked Lurie right off the bat what he thought about the new Consumer Reports report that calls AT&T the worst wireless carrier in America.

"I'm glad you brought it up," Lurie said. "We need to talk about it; we need feedback."
Lurie is the AT&T executive who negotiated AT&T's exclusive iPhone deal with Apple, and is the carrier's point person with Apple.
Lurie first said that the Consumer Reports is just one source of the feedback that his company is constantly collecting. Lurie then announced that the Better Business Bureau said today that it gets the fewest complaints from AT&T customers.
Mossberg was quick to point out that the praise from the Better Business Bureau is no counterpoint to the negative results reported by Consumer Reports. "We all know that when we are unhappy with our cell phone we call the Better Business Bureau," Mossberg said, with just a little bit of sarcasm in his voice.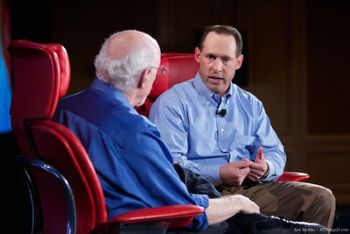 Pressed for a reaction to the Consumer Reports results, Lurie said: "We've been very open about our problems in New York and San Francisco. but I look at network from all over the country."
AT&T holds that its own research and third-party research shows that AT&T wireless service is improving. "The stats show that it's [AT&T service] improved everywhere, and we believe that it's improved everywhere," Lurie said.
PCWorld's Data Speed Test Results
PCWorld's own research shows that AT&T's data network speeds have indeed improved a lot since 2009, but that customer satisfaction with both AT&T broadband service and voice service remains low.
Lurie then explained, as AT&T often does, that his company was the first carrier to bear the burden of the massive growth in mobile broadband usage, brought about mostly by iPhone users.
"We had the good fortune of dealing with it first," Lurie says. AT&T says data usage has grown by 5,000 percent in the last five years. To deal with that growth, Lurie says his company has invested more than $18 billion in its network in 2009 and 2010. "This is something nobody's ever seen, we're the tip of the spear."
Lurie pointed out that all wireless carriers will have to deal with the huge growth in demand for mobile broadband service. "The growth of data use isn't stopping, it's going up."
Mossberg asked Lurie if he thought a Verizon iPhone would challenge the Verizon network in the same way it had the AT&T network. Lurie called the eventuality of the device "speculation" and declined to comment further.