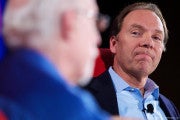 Sprint CEO Dan Hesse, speaking in an interview with Walt Mossberg at the All Things D Dive Into Mobile event in San Francisco, admitted that his company's bet on WiMAX technology hasn't given it the big lead in 4G it had hoped for.
Hesse explained that his company made a big bet on WiMAX (and WiMAX company Clearwire) back in early 2008 because it wanted to be the first US carrier to offer 4G. At the time WiMAX was the only 4G technology that was ready to deploy, Hesse said. And together, Sprint and Clearwire held enough wireless spectrum to roll out a national network.
Sprint's WiMAX network is now in more than 60 cities, and the company already sells two 4G-capable smartphones, the EVO 4G and the Samsung Epic 4G. But Verizon has hurried to launch its own 4G network, lighting up 39 cities December 5.
Verizon doesn't sell a 4G phone yet, but says it will by the middle of next year. And that'll be it for Sprint's head start. "It was less than we thought because it prodded Verizon to build its 4G network," Hesse explained.
But here's the real problem: WiMAX may be a doomed technology. The vast majority of carriers and equipment vendors around the world have already said they will adopt LTE, not WiMAX. Because all those players will be producing products for LTE networks, the price of all those products will go down, meaning that LTE will become a far more cost-efficient technology than WiMAX. Hesse acknowledges this: "I will grant that LTE will be the larger global ecosystem," Hess said.
The good news is that converting from WiMAX to LTE would not be starting from scratch for Sprint. But it may be forced to make this move eventually.