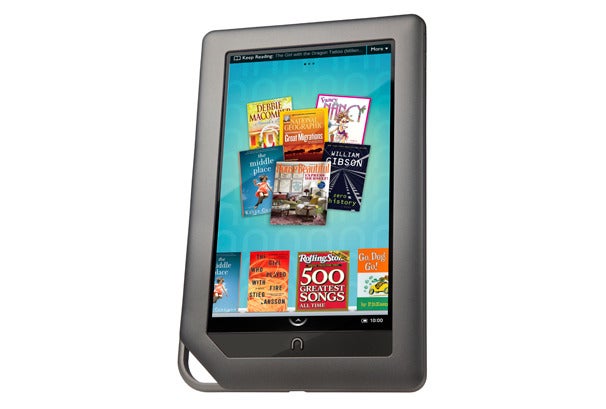 While the hacking community celebrates the rooting of the new Nook Color, it's worth noting that installing Android Froyo on the device is not for the faint-of-heart. As in, it could cause the device to explode.
As one YouTube video shows, getting Froyo and apps like Angry Birds on the Barnes & Noble e-reader is possible. But it isn't easy: Jesse Vincent of Massively Parallel Procrastination chronicles just how much hacking it takes to get Froyo up and running on the Nook Color.
An unmodified Nook Color will shut down if it believes that the battery is getting too hot. If you install Froyo, the Nook recognizes it, but it'll shut down immediately. To get around this, Jesse disabled Android's batteryservice, the software component that monitors the Nook Color's battery temperature. This means that the Nook Color's battery could overheat (thus damaging the unit), or worse–explode–as a result as this mod.
Needless to say, we advise against undertaking this hack.
This issue is on top of the compiling that you would need to perform prior to attempting this risky workaround. Oh, and there's the fact that you would have to do the modding yourself as there aren't yet any public Froyo ROMs for the Nook Color available. And there's still no Wi-Fi, Bluetooth, Google Apps, or sensor access–just particularly smooth-looking gameplay for Angry Birds.
As Jesse concludes, this Froyo hack is really not quite there yet (now there's an understatement), so it's probably best to wait for the XDA Developers to devise a safe hack before you risk it.
[Massively Parallel Procrastination]
Like this? You might also enjoy…
Follow GeekTech on Twitter or Facebook , or subscribe to our RSS feed .