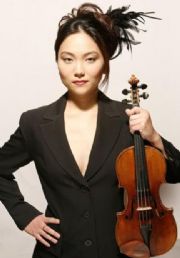 A $1.9 million violin was stolen at a sandwich shop in London's Euston station in late November while its owner was playing with her iPhone.
Renowned classical violinist Min-Jin Kym was on her way from London to Manchester on November 29 when she reportedly hopped into a Pret A Manger to grab a sandwich. She was eating with a friend when someone picked up her black violin case — which contained a 300-year-old Stradivarius violin and two rather pricey bows — and walked off with it.
According to one of the Pret A Manger employees, Hafid Salah, Kym and her friend were "on computers and iPhones and not looking at their bags" when the instrument was stolen.
Salah told The Daily Mail that Kym was "really upset and panicking" about the theft. "She came up to me at the counter and said, 'Have you seen my bag? Call the police. Can you get the CCTV? You have to do something.'"
Now, I'll admit that when the Windows Phone 7 commercials first came out, I scoffed. I thought Microsoft was pretty stupid for making an ad campaign that basically said, "If you don't really want a smartphone, buy our smartphone!"
But now that we've seen this story — apparently the iPhone is so entrancing that it can cause you to forget you're carrying a, uh, rather valuable instrument — maybe we really do need a "phone to save us from our phones":
The Stradivarius — one of 450 in the world and made by Antonio Stradivari — is not the only thing Kym lost. Also in the case was a $98,000 bow made by French luthier Dominique Peccatte, as well as an $8,000 bow by the Bazin school.
British Transport Police have issued an appeal for the return of the instrument, while the insurer is offering a $24,000 reward for information that leads to the recovery of the stolen property. So if anyone tries to sell you $2 million worth of antique musical property, you know where to go.
Detective Andy Rose has hope for its recovery. He told The Guardian that, though the goods are extremely valuable, "it would be very difficult to sell them," as they would be "easily recognized as stolen property."
Ya think?
Follow Sarah on Twitter (@geeklil) or at sarahpurewal.wordpress.com