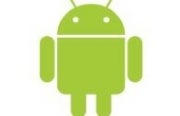 Holiday shopping is never easy, but you can relieve some of the stress (and keep your wallet happy) by using your Android smartphone to get the best deals possible. From mobile versions of our favorite online retail stores to deal-hunter apps, below are some of the best shopping apps to help make this holiday season a whole lot merrier.
(You can find these and many more apps in the PCWorld Android App Guide.)
Amazon.com (Free)

It's hard to go wrong with Amazon's Android app. The app (which is preinstalled on some phones), lets you browse and buy any of the millions of items on Amazon's Web store with ease. Find something you want in a brick-and-mortar store? Use the built-in barcode scanner to search Amazon and see if it has the same item for less. If the item doesn't have a barcode, you can take a picture, and the Amazon app will do its best to find a matching product.
Christmas Gift Finder 2010 (Free)
If you are having trouble finding a gift for a friend or a loved one, then you might check out the Christmas Gift Finder 2010 app. When you launch it, you are presented with 12 categories of people you could be shopping for–everything from "gifts for him" to "gifts for your pet." Tapping on any of the categories brings up a list of products that would best fit that type of person. For example, when shopping in the "office" category, I was shown a list of various gadgets and doodads (such as letter opener sets) that were perfect gifts for a coworker. If you happen to find something that you would like to give, you can buy the item through Amazon's mobile Website.
Discount Calculator (Free)
Retailers love throwing up percentages when talking about discounts. While a 50 percent discount obviously means half off, the value of a discount between 15 and 30 percent may not be as clear. With Discount Calculator, you can easily figure out exactly how much money you would be saving and whether you are actually getting a deal.
eBay (Free)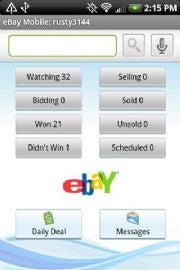 Although I found the eBay app a bit sluggish when I tested it (it also crashed on me twice), I would still recommend it for browsing items on the go. Use it to keep an eye on your bids and win that new Xbox 360 with Kinect for your family without losing a ton of cash in the process.
Groupon (Free)
Clipping coupons is a thing of the past with the Groupon app on Android. Every day, Groupon will notify you of a great deal in your area. If you choose to accept the deal, you get a voucher sent to your phone. Just display that voucher to the business and claim your deal.
Shopkick (Free)
Shopkick gives you even more incentive to go shopping. Whenever you check into a participating store, you are rewarded with "kickbucks." Kickbucks can be redeemed for all sorts of prizes ranging from Facebook Credits all the way up to a Sony Bravia television. Some stores will also have special offers available only by using Shopkick, such as discounts on merchandise or bonus kickbucks when buying certain items. However, Shopkick so far works in only a handful of stores (including Macy's, Target, Best Buy, and Sports Authority) because the company has to manually install sensors in each outlet. So even if you go to your local Macy's, you might not get any kickbucks for checking into that store.
Google Shopper (Free)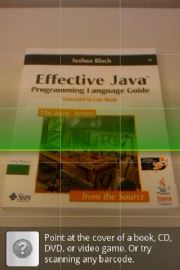 A Google application that I believe should be preloaded into all Android devices, Google Shopper makes it easy to search and find items both online and nearby. Found a book, but can't get to the barcode? Use the image search feature to scan the cover. You can also type in your search query or search using voice commands. Google Shopper searches both online and nearby, giving you prices from different stores as well as user and professional reviews. Google Shopper helps you make sure that you're getting the best price around.
Target (Free)
If you shop at Target regularly, the Target Android app is a must-have. With the app, you can check out all of the in-store and online Target deals, as well as shop the Target Website. If you are like me and hate waiting for items to come in the mail and would rather just buy the item in-store, the application can tell you which stores have the product in stock and even which aisle to find it in. The app definitely made me a happier Target shopper.