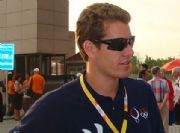 After a $65 million settlement, the Winklevoss twins are not satisfied with their payout from Facebook's Mark Zuckerberg.
Yes, that's right–after settling for the paltry sum of $65 million, Tyler and Cameron Winklevoss claim that it's "not enough" because Zuckerberg lied to them about the value of the company, according to the Daily Mail.
As you know, I'm no Facebook supporter–but really guys? $65 million and you still need more? Rich people! Zuckerberg is reportedly the 35th richest American with a net worth of $6.9 billion. Come on guys.
Anyway, the twins–who were famously portrayed as the "Winklevii" in the film The Social Network –say that Zuckerberg is guilty of "securities fraud" and demand to be paid an unspecified amount of money.
Naturally, Facebook claims that the twins are just suffering "a bout of settlers' 'remorse.'"
The original case was brought against Zuckerberg/Facebook in 2004 by twins Tyler and Cameron, along with their partner Divya Narendra. The twins and Narendra were the founders of ConnectU (originally called Harvard Connection), also a social networking site. In 2003, Harvard Connection/ConnectU hired Zuckerberg to write some code for their website–and somehow, just a couple of weeks later, Zuckerberg launched thefacebook.com.
The suit claimed that Zuckerberg had broken an oral contract with the plaintiffs, and had copied their idea and illegally used source code for his site (Facebook) that he had been contracted to write for their site. This suit was originally settled in 2008 for the sum of $65 million.
The new lawsuit claims that Zuckerberg/Facebook is a fraud for "not volunteering a more recent valuation of different Facebook stock." Facebook says that the original settlement is "enforceable" because not only did it communicate both parties' intention to be bound by it, but the twins "admit that they calculated the value of Facebook themselves, based upon a truthful press release from several months earlier."
Follow Sarah on Twitter (@geeklil) or at sarahpurewal.wordpress.com