While we're on the subject of improving Firefox performance (see yesterday's post on clearing the Downloads list), let's talk about old, outdated Java Consoles.
Java, of course, is the programming language/platform that's used by various Web sites and apps. You know, the thing that's constantly nagging you to install updates.
Every time you do so, Firefox inherits a new version of the Java Console (a debugging tool that's useless to the vast majority of users). Unfortunately, the old ones don't get deleted. Does that impact Firefox performance? I don't know for sure, but it can't help–and I do know I don't want half a dozen Java Consoles cluttering things up!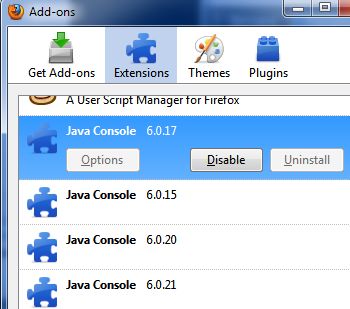 If you look at your Firefox Add-ons list (by clicking Tools, Add-ons), you may indeed see several instances of Java Console. However, you'll also notice that the uninstall button for each one is greyed out. How can you remove the old Consoles?
Simple: exit Firefox, then run it as an administrator. To do so, right-click your Firefox desktop icon, then choose Run as administrator. Now, when you go back to the Add-ons list, you'll have the option of uninstalling Java Consoles.
You can probably get rid of them all, though I recommend keeping the one with the highest version number, just in case the Java Runtime Environment needs it for some reason.