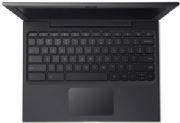 The CR-48 has landed! This morning, we received one of Google's first Chrome OS-powered laptops. As you'll see in our video, the CR-48 looks a lot like an old black Apple MacBook that's trying to sneak past customs — it's all flat black with no stickers or even product logos anywhere to draw attention.
The CR-48 is relatively light for a laptop with a 12.1-inch display, in part because it uses solid state memory (Google won't say how much) instead of a traditional hard drive. And it is quick to start up — from hitting the power button to getting to the login screen takes less than 15 seconds. Once you login, you're working in seconds because there's virtually nothing to load. Your desktop is literally a tab of the Chrome browser with icons for nine apps: a getting started app that explains the CR-48; two games, Entanglement and Poppit; links for YouTube, Google Maps, Gmail, Google Talk and the Chrome Web Store; and a note-taking app called Scratchpad.
It seems that virtually everything you do on the CR-48, you do in the Chrome browser. But we'll be playing some more with it for the rest of the day and report back on what we find. In the meantime, take a look at our unboxing video below and see more in our slideshow tour of the CR-48 and our overview of the Chrome OS itself.
In Video: Google CR-48: Unboxing the Chrome OS Laptop