At a Glance
Expert's Rating
Pros
Excellent keyboard
Sleek exterior and light weight for a 15-incher
Cons
Intel graphics useless for modern PC games
Motion smearing in video
Our Verdict
Samsung ships an elegant looking laptop with a great keyboard, but the machine is overpriced for what you get.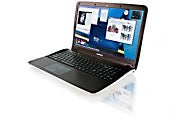 The Samsung SF510 undeniably looks good. Its sleek white exterior makes this all-purpose laptop look thinner than it really is, and the light weight doesn't hurt either. Flipping open the lid reveals an LED-backlit, 15.6-inch display and a nearly full size keyboard, complemented by a separate numeric keypad. The unit weighs just 5 pounds, 8 ounces without the power brick and 6 pounds, 3 ounces fully loaded.
Only by digging deeper do you uncover the limitations of the SF510. Beneath the hood of this nearly $1000 laptop is a rather anemic Intel Core i3 370M processor. Though it runs at 2.4GHz, it suffers from a scant 3MB of L3 cache shared between the two cores. The SF510 model that we tested shipped with 4GB of RAM, but the 370M processor maxes out at 8GB. Because this dual-core CPU supports hyperthreading, performance is reasonably good. The SF510 rolled to a WorldBench 6 score of 73–reasonable for a laptop equipped with a CPU of this class.
The integrated Intel HD graphics offer little support for modern PC games, but the laptop handles video playback quite well. Unfortunately, the LED-backlit display seemed muted when playing back high-definition and standard-definition videos, though it was more than adequate for normal desktop use. Fast-action scenes from the Kick-Ass DVD showed obvious signs of motion smearing. The laptop's range of acceptable viewing angles isn't particularly robust, either.
Audio playback lacks punch. Samsung ships the SF510 with SRS Premium Sound, but that feature produces a blurred soundstage. The audio that emanates from the built-in speakers is disappointingly bass-free and vocals sound a touch muffled. Listening over headphones is a much more pleasing experience.
In an attempt to create a sleeker exterior, Samsung's designers hid three ports–two USB and one HDMI digital video output–on the left side, under a small plastic door. Under normal laptop usage conditions, this cover will likely last about three weeks before breaking off. Meanwhile, the audio, ethernet, and VGA connectors remained completely exposed, so the utility of the cover is dubious.
A lone USB 2.0 port, an optical drive, and an SD Card slot are built into the right side of the case. The SD card slot supports the latest SDXC media, so users won't have any trouble using high-capacity SD Cards. The slot also supports older SDHC, SD, and MMC cards.
The SF510 is one of the first laptops I've seen that comes with built-in WiMax capability, offering the potential for robust, high-speed wireless broadband. Though WiMax isn't widely available yet, I appreciate Samsung's decision to build a forward-looking standard into the laptop. Note that the dual-purpose Intel N6250 networking chip supports 802.11n, though only one networking mode is supported at a time, which is a reasonable usage model.
Storage features consist of a 500GB hard drive (a 5400-rpm Hitachi unit with 8MB of cache) and a DVD rewritable drive. The 500GB drive seemed responsive and should give you plenty of archive storage space. The keyboard offered excellent tactile feedback, but the default settings for the pointing device made it a tad oversensitive.
In the end, the Samsung SF510 is a great, lightweight little package. It has a solid keyboard, an okay display, and good connectivity. Battery life, at nearly 5 hours in PC World's tests, is pretty decent, too. However, the package is a little pricey, given its fairly basic feature set. Sure, having WiMax is nice, but knocking a couple of hundred bucks off the price would be even nicer.