Curious about Chrome OS? Try this: Shut down every application on your PC except for Google Chrome. Maximize the Chrome window. Voila! You're now looking at an amazing facsimile of Chrome OS. Add a few apps from the Chrome App Store and the resemblance will be exact.
What's most striking about Google's CR-48, the company's proof-of-concept Chrome laptop, is just how little there is to it. It's really just Google's Chrome browser in a flat black box. There's no desktop, a rudimentary file system that you can't access directly and virtually nothing else that can't run in a browser.
That kind of minimalism isn't necessarily a bad thing and some people may quite like it. But it does raise the question: What's taking so long? If Chrome OS is really just a stripped down version of Linux (as it appears to be) whose main responsibility is simply to run a browser, why will it be about two years between the announcement of the OS and the appearance of commercial laptops that run it?
It's hard to believe that the holdup is the complexity of Chrome Apps. Many that I've used are simply smart bookmarks that deliver you to a Web page; in some cases, they deliver you to a service like Gmail without having to login. That's useful, but doesn't seem like a major coding achievement. Others, like the marquee New York Times app, deliver an experience you can't get solely through the Web site. But that experience won't come as much of a surprise to anyone who's used the Times app on other platforms like Android or iOS.
Our CR-48 came with nine apps already installed: a getting started tour of the notebook; two games, Entanglement and Poppit; links to Gmail, YouTube, Google Maps, Google Talk and the Chrome Web Store; and a rudimentary note-taking app called Scratchpad. Scratchpad has the distinction of being the only app of the bunch that clearly stores files on the CR-48 itself. (The notebook comes with a solid state drive, but Google hasn't revealed how big it is.) You can type out short notes in Scratchpad and the app will automatically store them locally and, in theory, sync them to your Google Docs account if you wish. My notes never showed up in my Google Docs account, though.
While there is a file system on the CR-48, you can only access it under special circumstances. There's no equivalent of Windows Explorer to let you view and manage your files. Instead, you can find them only when Chrome OS decides you need to. Scratchpad files, for instance, you can find only through the app itself. When I went to the online photo editing site Picnik and clicked the Upload File button, a window popped up that showed a number of folders with the kinds of names you'd see on most Linux machines — root, var, lib, etc. That allowed me to upload a file I'd earlier downloaded from Google Image search, but I would have had a hard time finding it without search — there's no obvious organization for where files are kept.
The only way to make changes to your system is through the Settings menu in the Chrome browser. That's where you'll monitor your internet access and make changes to network settings, manage user accounts and the like.
Working on the CR-48 can feel like walking a tightrope without a net (pardon the pun). If you're not connected to the Internet on this laptop, you're dead in the water. I wrote this article in Google Docs on the CR-48 during my commute. I should have been fine, because I had a Verizon Mi-Fi card for connectivity (our CR-48 arrived without a SIM card, so I couldn't test out the built-in 3G connection). But halfway through my commute, Chrome reported that it couldn't reach Google Docs. On any other laptop, this would be no problem. I'd copy my existing text into Word and continue working there. But on the CR-48, my options were severely limited. I pasted my changes into an Evernote note instead and hoped that I wouldn't lose my connection to that service.
Of course, there are some real advantages to the Chrome OS's minimal approach. The CR-48 takes only about 15 seconds to go from off to the login screen. And once you login, you're ready to work in only a few seconds more. Unlike Windows or Mac systems that have to load multiple pieces of software once you login, a Chrome OS system has only one program to load: the Chrome browser.
And I'd hope that the CR-48 would be admirably reliable — after all, there's just not much to go wrong.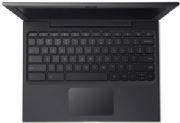 Since Google has no plans to sell the CR-48, the hardware isn't really the point here. But if you do end up getting one, there will be some quirks to deal with. Most famously, the laptop has no Caps Lock key. Instead, there's a dedicated button for running a Web search. All the button really does, though, is open a new tab in Chrome. By design, if you open a tab in the Chrome browser, your cursor ends up in the address box, which doubles as a search box. So you can dig into the CR-48's settings, restore the Caps Lock key and accomplish the same thing as the search key by clicking Ctrl-T.
The top row of the keyboard has buttons dedicated to Web browsing — forward and back arrows for going between pages, a key to reload a page and a helpful button for toggling full-screen view on and off. Another button is supposed to jump you from one browser tab to another. On my system, though, it only made the right edge of the window shudder in to the left for an instant, then pop back out.
The CR-48 has a VGA port, USB port and an SD card slot. The only function of the USB port, though, seems to be to allow you to charge devices. Try as I might, I couldn't access any files on a USB drive I put in the port. I could access files on an SD card, but only through the strange dance of going to a site like Picnik with a file upload function so that I could see the files in the popup box.
It may be that once cloud apps gain a little more polish and wireless Net access is reliable everywhere, a Chrome OS machine will be just right for lots of people. But based on my experience with the CR-48, I don't expect using the Chrome OS to be a revolutionary experience. Instead, it feels a bit more like working with one hand tied to your side — it's possible, but awkward.
In Video: Google CR-48: Unboxing the Chrome OS Laptop