The iPad made its debut almost one year ago, and as its anniversary nears, more rumors are popping up, claiming a new Apple tablet is in the works sporting front- and rear-facing cameras. Unnamed sources within Apple's sup
ply chain recently said a new iPad would be coming in early 2011 that, in addition to having two cameras, will be slimmer, lighter, and have a higher resolution screen, according to Reuters.
The Reuters report echoes previous speculation and rumor about the iPad 2. In November, Taiwan-based DigiTimes reported that production for iPad 2 will begin ramping up in February, presumably for an early spring launchafter all, Apple likes anniversaries and the original iPad launched on April 3.
Speculation about a front-facing camera for the iPad 2 has been debated since February after a Kansas-based computer repair shop discovered a camera hole in a replacement internal frame for the iPad. A front-facing camera on the iPad would enable FaceTime video chat on the tablet device similar to what is available on the iPhone, iPad, and Mac computers.
A rear-facing camera on the iPad has drawn less speculation than its front-facing counterpart, but a second camera would by no means be a surprise. Apple's other iOS handsets including the iPod Touch and iPhone have rear-facing cameras, and the Samsung Galaxy Tab (the iPad's most promising competitor so far) also features a 3.2 megapixel rear-facing camera.
The Case of the iPad 2 Case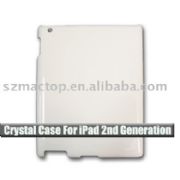 Gadget blog iLounge has also added to speculation about a rear-facing camera on the iPad after a recent discovery that Chinese manufacturer MacTop Electronics was selling an iPad case with a rear camera hole. The item has since been pulled from the manufacturer's Website, but a screen grab of the image shows a banner claiming the case was meant for the second-generation iPad.
While it's tempting to take this apparent leak at face value, it's important to remember that many bogus Apple products have been spotted on retailer Websites in the past.
During the rumor mill run-up to Macworld Expo in January 2009, many believed a small iPhone Nano was due to be released. That speculation only increased when references to an iPhone Nano appeared on the sites of case makers Vaja and XSKN.
Buy Now or Wait?
Apple is hoping for a big holiday season for the iPad, and speculation about a second-generation device is unlikely to dampen enthusiasm. If you're wondering whether to buy an iPad before an expected iPad 2 announcement early next year, check out my colleague Jared Newman's take on the buy now or wait debate.
Tablet devices are set to explode onto the market in 2011. In addition to the iPad 2, Google was recently showing off a Motorola tablet running Android 3.0 (Honeycomb) due out some time in 2011.
Connect with Ian Paul (@ianpaul) and Today@PCWorld on Twitter for the latest tech news and analysis.