Photos and videos of an alleged PlayStation phone from Sony Ericsson have been steadily trickling through over the past few weeks, shedding light on the specifications and capabilities of the device. Sony Ericsson is expected to introd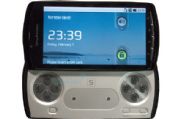 uce a PlayStation-branded smartphone running Google's Android mobile operating system in February, and tech blog Engagdet had a string of leaks on the device lately.
The first outing of the PlatStation phone prototype came in late October, showing the device running a 1GHz processor with 1GB of RAM memory and 1GB of ROM. Google's Android OS is powering the prototype, code-named Zeus, but it is unclear which version is used. According to reports, some devices are tested with Android 2.2 (Froyo), while some run the newer 2.3 version (Gingerbread).
Later revelations show that the PlayStation phone has a microSD card slot, a four-inch screen, and slide-out PlayStation-like controls, with two directional pads and a touch pad in the middle. At the top are also two control buttons as on PlayStation controllers, but the phone lacks any PlayStation branding. Basically, the device is half Android smartphone, half portable gaming console.
Another video leak shows a PlayStation app on the device. Itis presumably a sort of independent application store, which Sony would control to distribute specially designed games to the phone. Given the special gaming controls on the device, Sony would probably use this method to sell PlayStation phone-only games.
Overall, the device in the leaked pictures and videos looks bulky and plastic, and not in the same league of slickness with high-end Android phones like the Nexus S or the Motorola Droid X.
So far, though, the PlayStation phone is the Loch Ness Monster of the smartphone world. Even when poked by the Wall Street Journal, Sony did not recognize or deny the existence of the PlayStation phone, but yet leaks (deliberate or not) are coming through. The Mobile World Congress in Barcelona in February will probably be the time when, or if, Sony officially unveils the PlayStation phone.
Follow Daniel Ionescu and Today@PCWorld on Twitter