Removable media such as CDs, DVDs and USB drives are no longer allowed on classified military computers.
The military's ban on discs is the latest government defense against Wikileaks, which in late November began publishing hundreds of thousands of confidential communications between the United States and its diplomats. Pfc. Bradley Manning is accused of burning the correspondences to a CD marked "Lady Gaga" and giving it to Wikileaks.
The solution seems simple enough: Ban removable storage, and would-be leakers won't have any way to separate confidential files from the secret portion of the military's network. Troops risk a court martial for disobeying the order, Wired reports.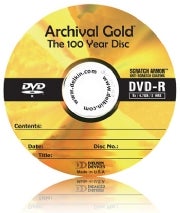 The only problem is that removable media is pretty important for classified computers, which are often disconnected from the military's network. The military order acknowledges that banning removable media will make operations harder, but to paraphrase, essentially says "too bad."
Banning DVDs and thumb drives might seem like an overreaction, but it's also a reminder that in the age of cloud computing, old fashioned removable media is still a huge security risk. See, for example, the fascinating story of a computer worm that infiltrated Iran's nuclear program. Because the facility was not connected to the Internet, the worm did its work by infecting residential computers in the area and patiently waiting for someone at the plant to take work home on a thumb drive.
Distrust the cloud if you will, but if you're dealing with sensitive information, sometimes it's the CD marked "Lady Gaga" that gets you.