Laptops can be stolen. Neoflyer asked the Answer Line forum for tips on protecting them.
There are several issues here. You want to prevent thieves from stealing your laptop. But if it's stolen despite your best measures, you still want to protect the data–both in the sense that you don't want to lose it and you don't want the thieves to access confidential information. Finally, you want to increase the odds of getting it back.
Let's start with preventing the theft in the first place:
When traveling, keep the laptop in a case that protects it physically but doesn't look like a laptop case (see Caring for Your Laptop). A backpack should do the trick, but some type of bag I haven't mentioned in PC World would probably be better.
Keep it either in your line of sight or in physical contact at all times. Put it in your lap or between your legs when sitting down and not using it.
When you're at home, secure it with a lock and cable. Most laptops have a security slot that a specially-m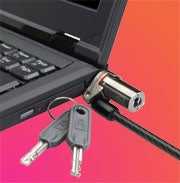 ade lock can clamp onto, and those locks come attached to cables you can put around tables and other unmovable objects. Both Kensington and SecurityKit.com offer selections of cables and locks.
When you're staying at a hotel, bring the laptop with you wherever you go. Or, if there's a safe in your room, put it in there. If neither of these solutions work, bring it to the front desk and ask if it can be put in the hotel's safe. And if that's not an option, use the lock and cable.
Protecting What's On It Even the most carefully-protected laptop may be stolen, so you need to protect your data. Most of your files will be of little use to criminals, but if there's something you'd rather they not get a hold of (bank statements, corporate secrets, letters of transit), encrypt it. See Avoid Windows Encryption for ways to do this.
You may not want to give criminals access to your data, but neither do you want to lose it yourself. Keep an up-to-date backup–and a backup to your internal hard drive doesn't count. If you backup to an external hard drive, don't pack that drive in the same bag as your laptop. In fact, when you're on the road, leave the backup drive at home, and carry copies of the files you'll need on this trip on a flash drive that you carry with you.
Or backup online with a service like Mozy.
If your laptop is stolen, there's a good chance you'll never see it again. But writing down your model and serial numbers (they're probably on a plate or sticker on the bottom of the notebook) increases the odds that you will. Both Absolute Software and Tometa Software offer software/service combinations that may increase the odds even more. The hidden software they install onto your PC will report the laptop's physical location (or at least its IP address) when the laptop accesses the Internet. This information can help you track down your stolen computer.
Read the original forum discussion.
Add your comments to this article below. If you have other tech questions, email them to me at answer@pcworld.com, or post them to a community of helpful folks on the PCW Answer Line forum.