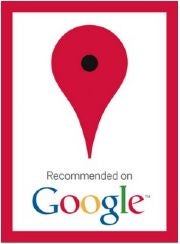 The possibilities seemed endless when Google began hyping near-field communication for Android phones last month. Now, we've got some hard details on what the NFC capabilities in Android version 2.3, known as Gingerbread, will do in the near future.
In a blog post, Google describes its first NFC endeavor in Portland, Ore. Over the next few months, the company will hand out stickers and other promotional gear to local businesses for Google Places, Google's local search service.
The stickers are similar to the "People Love Us on Yelp" badges you might have seen around your city, but with a twist: Google's version has NFC technology built in, so when Nexus S owners tap their phones to a sticker, they'll get information on the business, presumably from Google's Place pages.
Google's also holding a competition to promote Google Hotpot, a site for rating and finding local businesses. The top five raters get a dinner for 10 at any restaurant in Portland. To get the word out, Google is giving away T-shirts at tonight's Portland Trail Blazers vs. Orlando Magic game.
So this is the next step in Google's attempted coup of entrenched local directories like Yelp and Citysearch. In one move, the company promotes both Google Places and Android phones. Clever.
But for now, it's going to progress slowly. There's no word on when the NFC sticker scheme will launch in other cities or what other plans are in the works.
Google chief executive Eric Schmidt has talked about NFC as a mobile payment system on Android, and a Swedish company is testing NFC-enabled phones as hotel keys. Google's director of emerging marketing, Bernardo Hernandez, only says that the promotions in Portland are "just the beginning and we'll be doing a lot more in the upcoming months."
With only one NFC-enabled Android phone on the market, the Nexus S, and none from competing platforms in the United States, Google needn't rush.