Rumors suggest that Intel's forthcoming Sandy Bridge integrated CPU/graphics platform will find its way into the lower-end range of the next generation of MacBooks. Bearing in mind Apple's cozy relationship with Intel and its habit of adopting each new generation of Intel's processors, this would make a lot of sense.
Sandy Bridge is the first of a new generation of processors (intended to supersede the current range of i3/i5/i7 chips), in which the CPU and GPU (Graphics Processing Unit) functions are combined onto one piece of silicon. This reduces costs while at the same time offering performance boosts.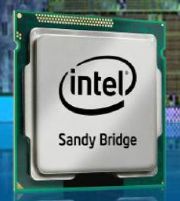 Technically speaking, the graphics function of Sandy Bridge falls into the category of integrated graphics, even though there are massive technical differences between Sandy Bridge and true (poor-quality) integrated graphics.
In the world of gaming, integrated graphics are considered vastly inferior to dedicated, discrete graphics cards. Sandy Bridge seeks to change this perception with new, performance-enhancing integrated graphics. Whether Intel's marketing drive and performance boost will change the minds of dead-set gamers remains to be seen.
As such, the reliance on what is viewed as integrated graphics in Macs could be a marketing challenge for Apple, which some have suggested is trying to position its Mac as a gaming platform. Valve recently ported Steam to the Mac, for example, and now offers an impressive roster of games. It's been suggested that the new Mac App Store, due at the end of this month, could also be primarily a games distribution platform.
If Mac devotees do decide to take umbrage at the fact that Apple has turned its back on Nvidia, its current graphics partner for the MacBook range, the irony will be that Sandy Bridge is actually a highly competent gaming platform provided modest settings are used. It's certainly far in advance of existing integrated graphics chipsets and has more in common with discrete graphics cards.
Apple has used integrated graphics before without suffering major repercussions, although the move drew criticism from reviewers. From 2006-2009, following Apple's controversial switch to x86 architecture, low-end MacBooks used Intel GMA integrated graphics. However, back then the idea of gaming on a Mac was still a joke, and only a small handful of games were available for the "platform," outside of simple puzzle/strategy games.
Additionally, Apple's current high-end MacBook Pro computers are able to switch between integrated Intel HD graphics and a dedicated Nvidia graphics chip, depending on how much power is needed.
That said, we shouldn't underestimate Apple's marketing skills. After all, they've frequently downplayed computer performance in favor of elements such as attractive aluminum cases, screen quality, and battery life.
Indeed, as a rule, people who purchase Apple computers are less concerned with out-and-out performance: if it's a fast computer you're after, get a high-end Dell, or Sony. But if you want a competent computer that brings it with style, get a Mac.
Apple, no doubt, hopes that this will still hold true..
Keir Thomas has been writing about computing since the last century, and more recently has written several best-selling books. You can learn more about him at http://keirthomas.com and his Twitter feed is @keirthomas .